Should you buy Cardano after the 7% dip on Tuesday?
Cardano (ADA/USD) was trading over 10% lower on Tuesday as a deep market sell-off was seen as Bitcoin (BTC/USD) fell by 4% in the past two days and was trading back at the $41000 mark. Cardano allows peer-to-peer transactions on its blockchain layer and smart contracts. This multilayer network makes Cardano more flexible, scalable, and secure. It is a decentralized system and it aims to become a home for large-scale financial applications.
Huge selling volumes were seen as Cardano was trading at the resistance thus it is looking like investors booked their profits after the sharp rally seen in the past week which helped Cardano zoom by over 20%. Cardano Investors have been waiting for a reversal in Cardano over the past few months however, Cardano had not shown any signs of stopping the downtrend even after falling by over 60% from its highs. However, the recent rally is suggesting that the downtrend may be over after Cardano failed to make a lower low. Thus in the coming weeks, the rally could extend its gains and Cardano could surge further. Investors must be cautious and wait for the right time to enter. Cardano has also recently surpassed Solana in market capitalisation which is indicating that the bulls could be making a return soon.
Here is what the charts are suggesting-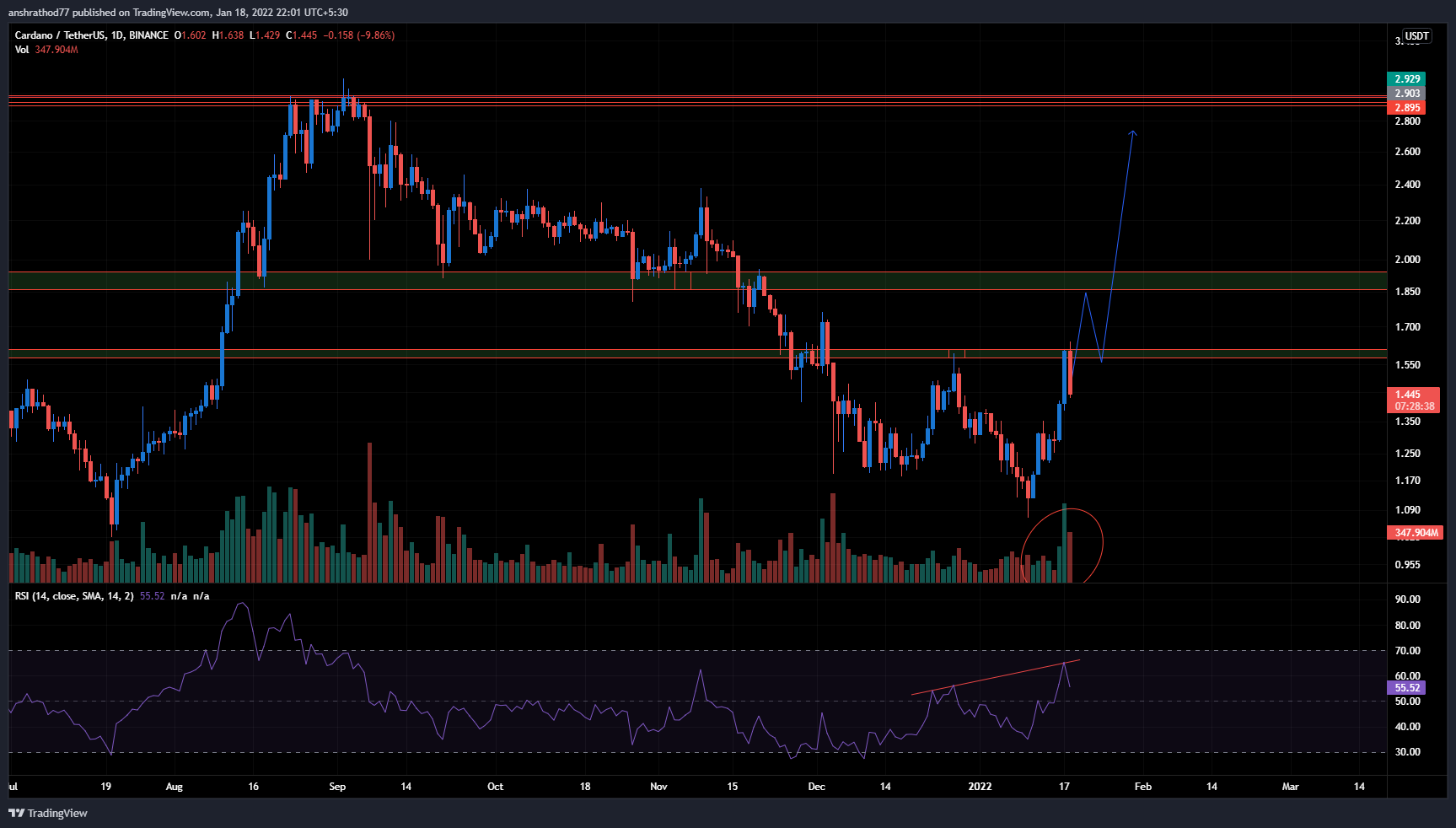 Cardano has made a double top pattern, however, a bullish RSI divergence can be seen which is indicating that a bearish reversal should not be seen soon.

A Strong resistance can be seen at $1.6, thus investors should be patient and wait for Cardano to break through the resistance as it will confirm a bullish bias.

A rise in buying volumes was also seen earlier this week, this is pointing towards a strong reversal.

Investors can set a target of $1.9, followed by $2.35.