Should you buy Ankr after the correction? Charts point to a surge soon
After rallying by nearly 100% at the start of November, Ankr (ANKR/USD) has corrected by over 35% and it has finally reached the lower trendline thus a reversal could be expected soon.
Ankr is looking very bullish for the coming weeks due to the fact that after a huge rally, Ankr has sustained above the trendline during the correction and could soon hit a new high. However, should you buy Ankr now or wait for a lower price?
A closer look at this year's charts-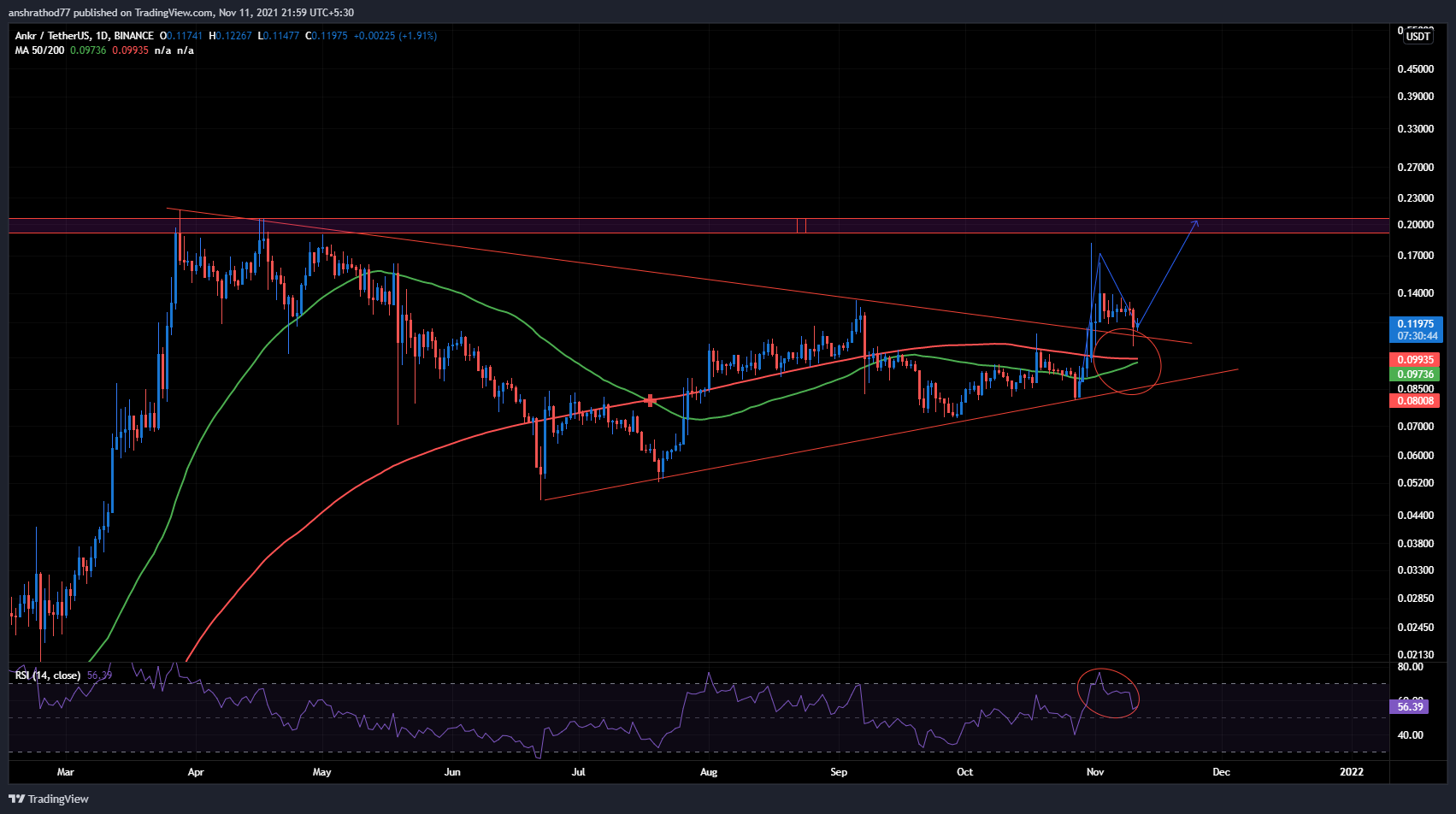 After a massive breakout from the symmetrical triangle Ankr has retested the lower trendline and has successfully taken rejection from the support which is a great sign for investors.

After the dip across all major coins on Wednesday, Ankr fell below the trendline however huge buying volumes helped recover the price above the trendline. This is suggesting that Ankr could start a rally once again especially after the shakeout on Wednesday.

Ankr was in the overbought zone when it broke out, and after the correction, it has now created space in the RSI to be bought again which indicates that the rally could be huge.

The 50 and 200-day moving averages are also extremely close to a golden crossover which last occurred in 2020, thus in the coming months, some huge moves could be seen.

A long entry could be taken as long as Ankr is above the supporting trendline and once momentum to the upside is seen once again.

A target can be set at $0.14, followed by $0.164 and for investors willing to hold Ankr for a longer term a target of $0.0181 could be set.

A stop-loss can be maintained at $0.104.
Conclusion
Ankr has formed a very bullish structure and a continuation of the rally could be seen very soon, and this time Ankr could also reach new highs. However, investors must maintain a stop-loss even though Ankr has retested there is still a slim chance that it breakdown from the support.