Should you buy Aave after the 5% surge on Monday?
Aave (AAVE/USD) was trading over 5% higher on Monday while strongly outperforming Bitcoin (BTC/USD). Aave is an open-source, non-custodial decentralized lending protocol that allows users to earn interest on deposits and borrow digital assets. Aave offers simplified and decentralized access to a wide range of digital assets and interoperability with multiple decentralized finance (DeFi) platforms. Aave fell by over 50% earlier this month after a deep sell-off was seen in the broader market, thus it is looking like Aave may be seeing a short term reversal due to panic selling which might have led to Aave being oversold.
Aave has been one of the worst-performing coins from October after the Bitcoin sell-off started, Aave hit a new high of $495 in October and went on to hit a new low of $130 earlier this week- a 70% drop. Aave still has great fundamentals thus it could be worthwhile to accumulate Aave here, however, investors should wait for buyers to make a return and get some strength back into Aave as it can fall further down. The surge of 5% on Monday could be the start of a short term rally, however, investors must be patient and see how strong Aave is at the moment.
Here is what the charts are pointing towards-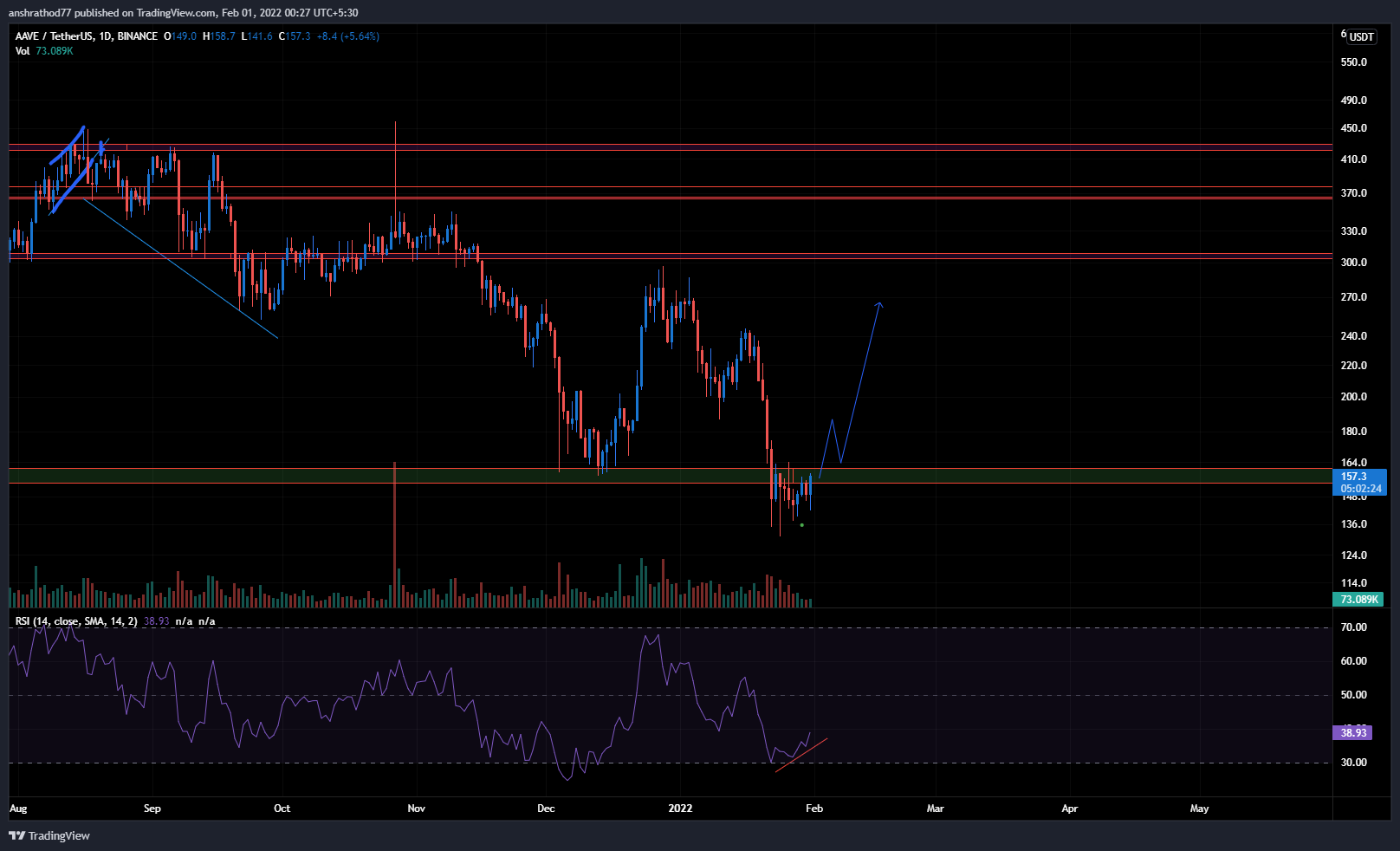 After the sharp fall earlier this month, Aave was oversold on the RSI and thus it has been consolidating in a very tight range since.

It is looking like a significant move could be seen soon, thus investors can enter once the resistance at $161 is taken out.

A bullish RSI divergence can be seen, thus it is suggesting that a bullish breakout could be seen soon.

Investors can set a target of $200, followed by $280 and a stop-loss can be set at $130.