RUNE price forecast after Synthetic assets go live
RUNE's trading volume saw an increase of 130% within the last 24 hours.

The token also experienced a jump in its value of 4% throughout the span of the last 24 hours.

RUNE has the potential for growth even further.
THORChain (RUNE) allows trustless trading as well as token swaps for a multitude of cryptocurrencies. It is an independent blockchain that has been built through the usage of the Cosmos SDK.
The launch of Synthetic Assets as a catalyst for growth
The RUNE token has surged in value after DeFi Synthetic Assets went live on March 10, 2022.
These synthetic assets are backed by half the value of the underlying asset and half in RUNE, which in turn allows users to hold and trade a representative of a layer 1 or base asset much quicker and at a much lower cost.
THORChain allows for trustless trading and token swaps for many cryptocurrencies through RUNE. What this means is that through the utilization of RUNE as an intermediary, users can trade assets from one network to another in a decentralized manner without the usage of smart contract-based bridges.
These synthetics will lead to an increase in the overall network usage, to the network's total value locked (TVL), and all of this will result in cheaper swap fees while also generating higher income for the liquidity providers.
This will boost the interest as well as overall value in the RUNE token.
Should you buy THORChain (RUNE)?
On March 10, 2022, THORChain (RUNE) had a value of $4.92.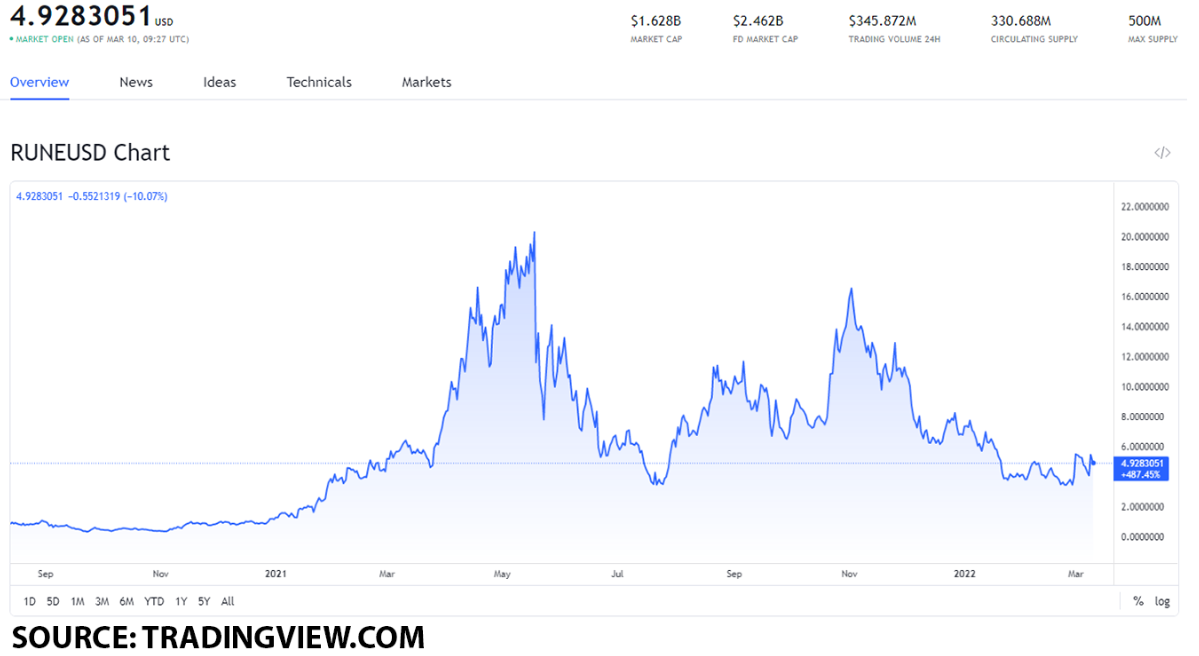 To truly see what this value point indicates for the RUNE token, we are going to go over its ATH value alongside the performance the token showcased throughout the previous month.
The all-time high value of the THORChain (RUNE) token was on May 19, 2021, when the token reached a value of $20.87. Here, we can see that the token was $15.95 higher in value, or by 324%.
When we look at the token's performance throughout the previous month, THORChain (RUNE) had its highest point of value on February 7 at $5.20.
The token had its lowest point of value on February 24 at $3.06. This gives us an indication that the token saw a decrease in its value by $2.14 or by 41%.
However, from February 24 to March 10, the token saw an increase in value of $1.86 or by 60%.
With this in mind, we can expect RUNE to reach a value of $6 by the end of March 2022.