Polkadot price prediction as Moonbeam ecosystem grows
The Polkadot price has not been left behind in the ongoing cryptocurrency sell-off. The DOT token is trading at $17.15, which is about 68% below the highest point in November last year. It is also close to the lowest point since August 2021.
Why DOT price crashed
Polkadot is a leading blockchain project that was created by Anthony Wood, a computer scientist. The network aims to be the ideal platform for developers in web 3.0 and other decentralized projects.
Polkadot uses several important technologies to distinguish itself from other projects. For example, it uses relay chain technology that is responsible for security, cross-chain interoperability, and consensus.
Polkadot also uses parachains, which are independent blockchains that can have their own tokens and operations. Also, it has parathreads and bridges.
The DOT price has struggled in the past few months as investors worry about the rising inflation and the overall transition to high-interest rates. The Federal Reserve is expected to start hiking interest rates this week. This also explains why other cryptocurrencies like Bitcoin and Ethereum have all retreated.
The other reason is that investors are worried about Polkadot's ecosystem after the successful parachain auctions that happened in 2021. In total, the auctions raised billions of dollars. For example, Acala raised 32.5 million DOTs which were worth over $1.25 billion.
There are concerns about the overall growth of these ecosystems. On Friday, Moonbeam announced that it had seen remarkable growth two months after launch. It has processed over 3 million transactions while over 92 million of its tokens had been staked.
Several projects have already been built using the network. Some of them are Bitcoin Suisse, Curve Finance, Solarbeam, and Nova Wallet among others. Still, it is still too early to predict whether Moonbeam and other Polkadot projects will be successful.
Polkadot price prediction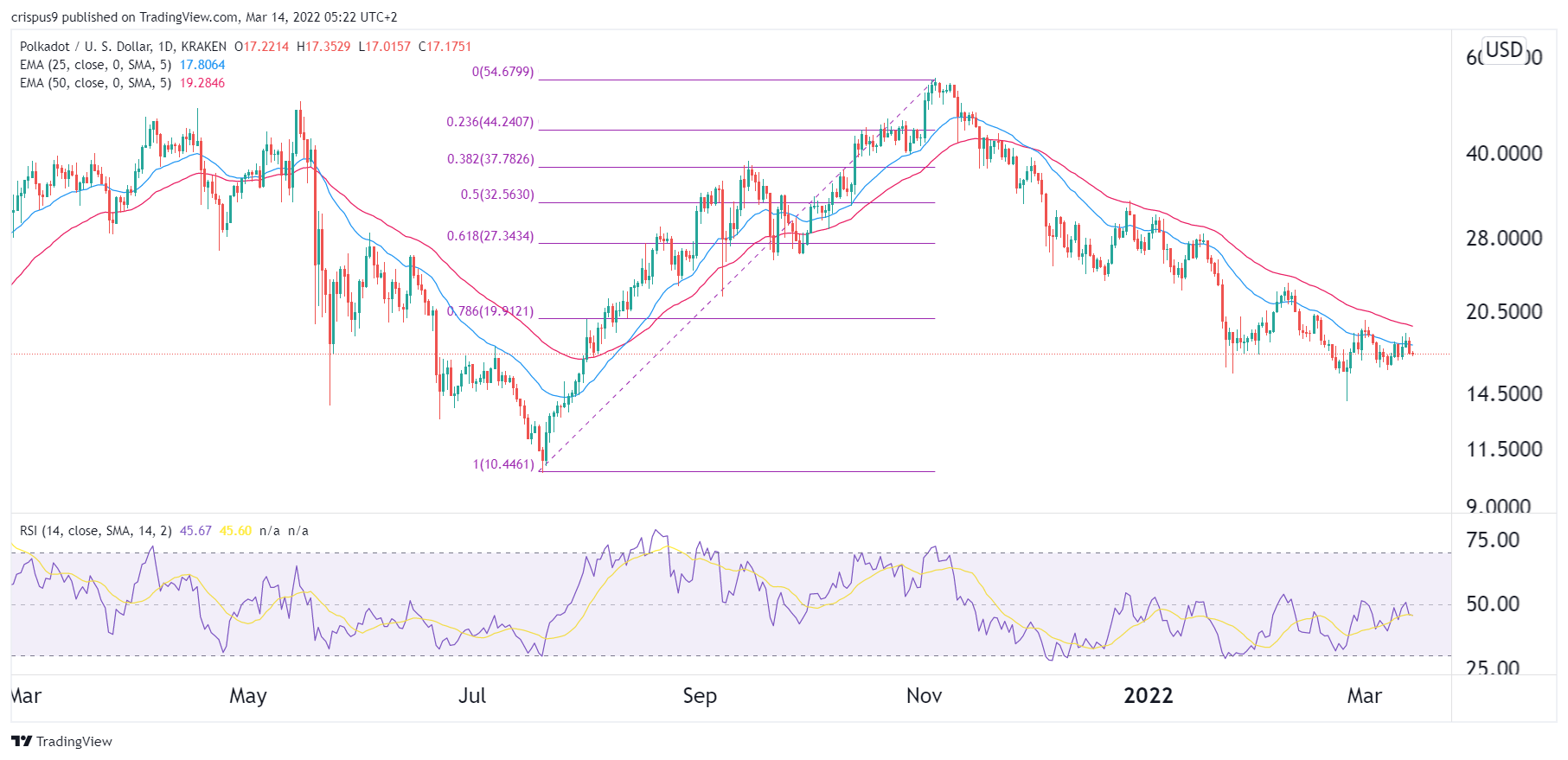 The daily chart shows that the DOT price has been in a bearish trend in the past few months. A closer look reveals that it has remained below the 25-day and 50-day exponential moving averages (EMA) for a while. That is a signal that bears are still in control.
At the same time, the Polkadot price has moved below the 78.6% Fibonacci retracement level while the Relative Strength Index (RSI) is at the neutral level of 50.
Therefore, the path of the least resistance for the coin is to the downside, with the next key level to watch being at $14.20.