Is Polygon MATIC a good buy ahead of Ethereum merge?
The Polygon (MATIC) price has moved sideways in the past few days even as other cryptocurrency prices have rebounded. It is trading at $1.61, which is slightly above its lowest level this year. Other coins like Ethereum and Cardano have all rallied.
What happens to Polygon after The Merge?
Polygon is one of the leading blockchain projects in the world. Its main goal is to help developers scale their Ethereum apps. By moving to Polygon, they are able to have applications that complete transactions at a faster pace. Most importantly, they save money. According to Polygon, it saves Ethereum users over $29 million in gas fees every day.
Therefore, the main reason why the MATIC price has moved sideways in the past few weeks is concern the ongoing Ethereum upgrade will push more developers to the network.
Fo starters, it is important to understand what Ethereum developers are doing. They are simply migrating the architecture of Ethereum from a proof-of-work network into a proof-of-stake. This is a multi-year project that started in 2020 and is expected to complete in 2023. This year, the most important thing that will happen is known as The Merge.
In future, Ethereum will introduce a concept known as sharding that will supercharge how its network. Sharding solves a major challenge by slicing the blocks in blockchain into smaller pieces known as shards.
As a result, the developers expect that Ethereum will supercharge its transaction per second from less than 15 to over 5,000. The cost of transactions will also reduce sharply.
Therefore, there are concerns about whether layer 2 networks like Polygon, Loopring, and Immutable X will exist after this merge happens. Most analysts expect that these platforms will still attract developers who want to scale their platforms.
MATIC price analysis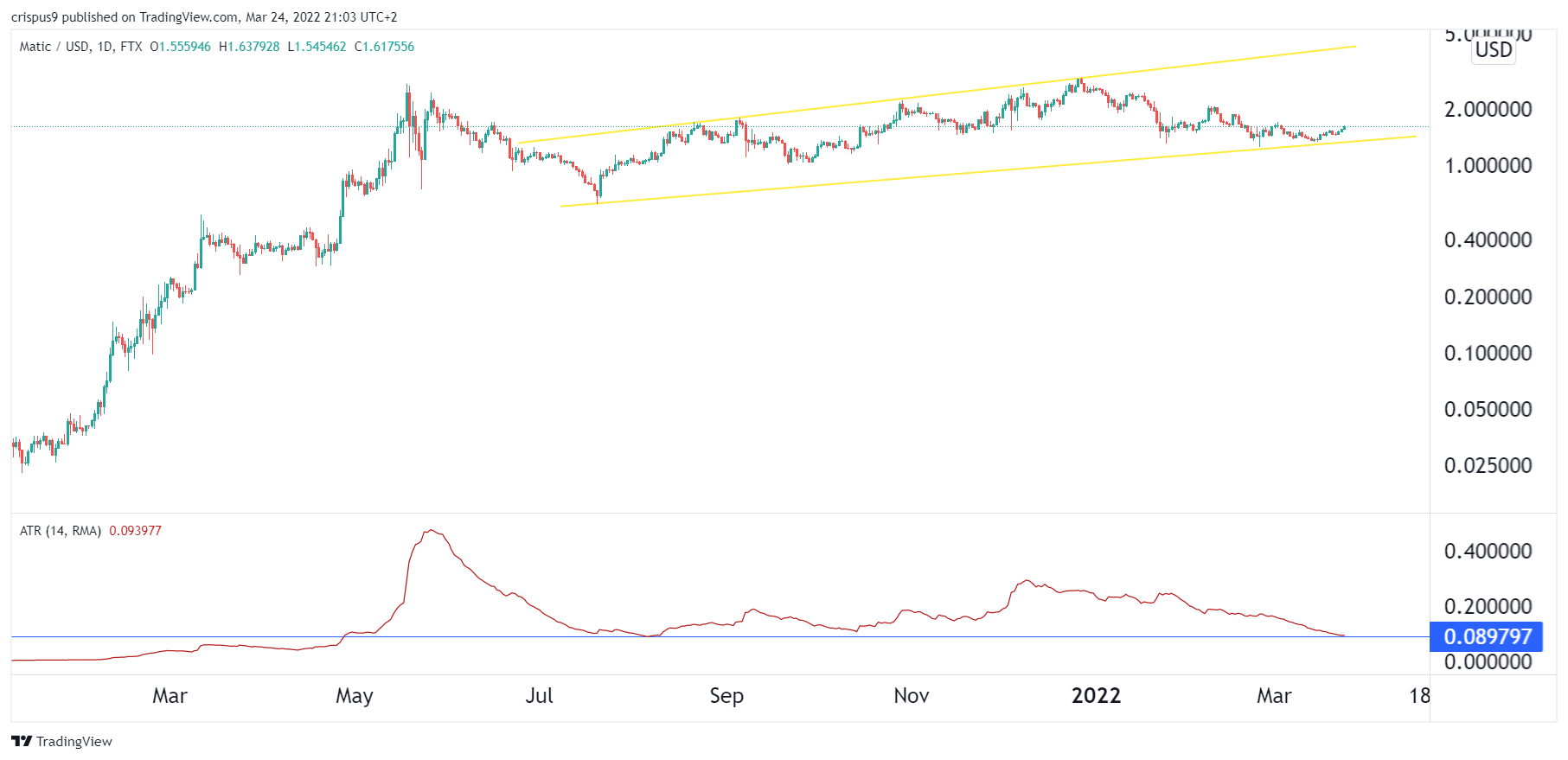 The daily chart shows that the Polygon price has been moving sideways in the past few days. As a result, the coin is trading slightly above the lowers side of the rising channel. Its volatility has also declined as evidenced by the performance of the Average True Range (ATR), which has dropped to the lowest level since August 21.
Therefore, there is a likelihood that the MATIC price will keep rising as bulls target the upper side of the channel at above $3. However, a move below the lower side of the channel will signal that there are more sellers left.