Is it too late to buy Luna as it hits a new all-time high?
Terra coin (LUNA/USD) was trading over 3% higher on Tuesday as it broke the all-time high that it hit earlier this month. Luna has been trading in the green since the past week and has closed higher every day in the past week, showing extreme strength and bullishness. LUNA allows holders to pay network fees, participate in governance, stake in the Tendermint Delegated Proof of Stake consensus mechanism, and peg stable coins. The recent rally can be attributed to the fact that the Terra ecosystem has made significant enhancements to its ecosystem in the past few months.
Luna had been correcting earlier this month which could have been a great entry point for investors who had missed the previous rally, however, many investors are now thinking that it is too late to buy Luna as it already hit a new all-time high. Nevertheless, hitting a new all-time high does not mean that the rally is over in Luna but just that investors must be cautious with their entry and make sure that they are not entering due to a fear of missing out.
Here is what the charts are pointing towards-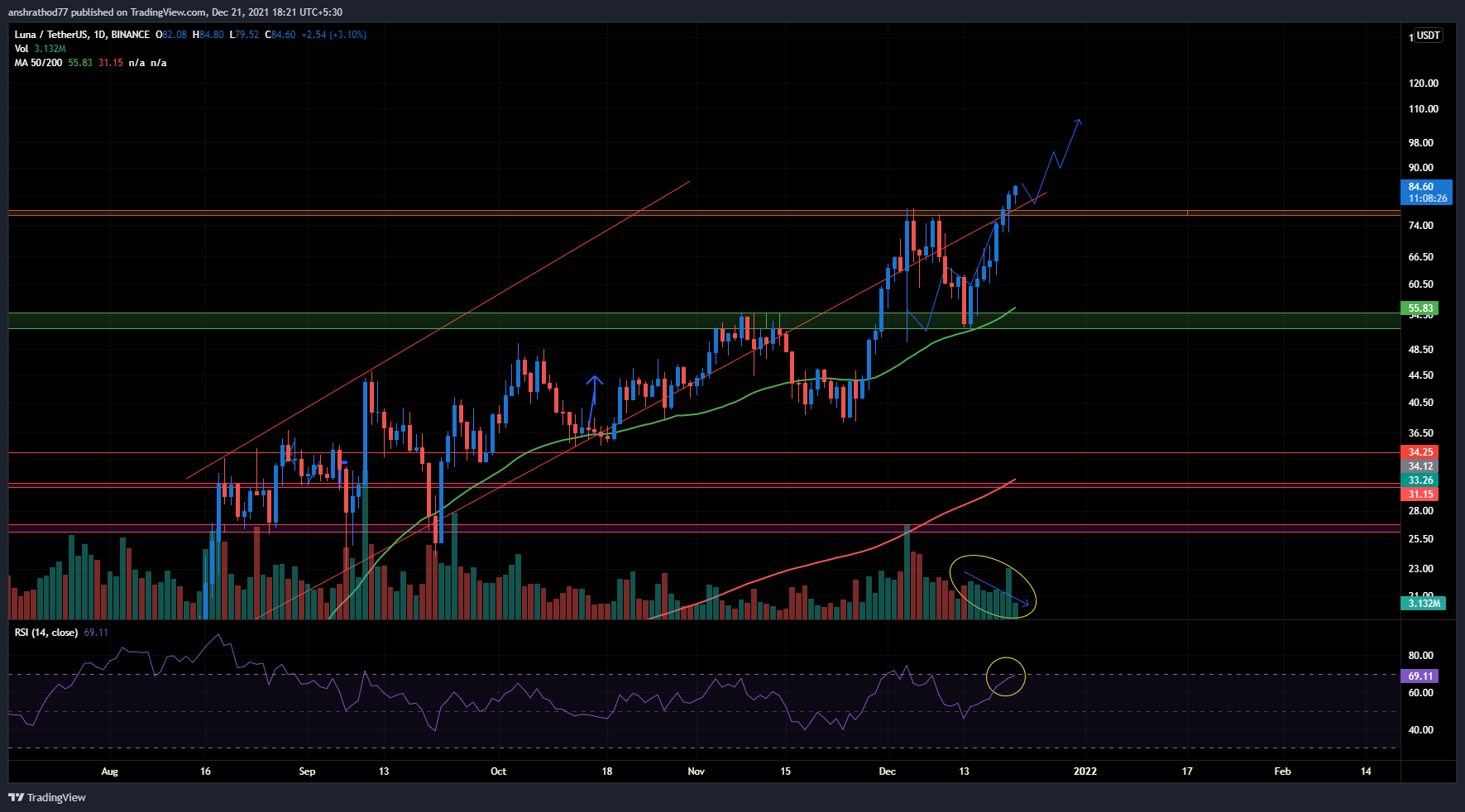 After hitting a new all-time high earlier this month Luna corrected to the breakout zone and perfectly retested the support before rallying again.

It is looking like Luna could do the same and thus a corrective move could be seen soon, thus investors must be patient and wait for Luna to retest the support at $76 before entering.

The volumes are slowly falling which is pointing towards a reversal soon thus a correction could be seen soon.

The RSI is also at the overbought zone which is suggesting that sellers could be seen soon for profit booking.
Conclusion
Investors can wait for a correction to enter Luna, which could be seen soon and investors can enter around the $76 support zone with a target of a new all-time high.