Is it safe to buy Terra LUNA after the giant $1 billion raise?
The Terra price jumped sharply in the overnight session as investors attempted to buy this week's dip. It also rose after The LUNA Foundation Guard raised $1 billion. It is trading at $56, which is about 19% above the lowest level this week.
LUNA $1 billion fund
Terra is a South Korean blockchain platform that has recently grown to become one of the leading players in the industry.
The platform has multiple uses. Developers can use the ecosystem to build quality decentralized applications (dApps) of all industries. While the number of DeFi projects built using Terra is a bit small, they have a total value locked of over $15 billion.
This makes it the second-biggest platform in the industry after Ethereum. It is even bigger than other popular platforms like Solana and Binance Smart Chain.
Terra, which is built using the Cosmos SDK, is best known for its stablecoins. Terra USD has grown to become the fourth-biggest stablecoin in the world after Tether, USD Coin, and Binance USD.
Terra USD is different from the other stablecoins in that it is not backed by the US dollar. It is tied to LUNA such that whenever a person mints UST, they must burn LUNA. To ensure its stability, whenever the price falls below $1, one can buy at a discount and trade it for $1 LUNA.
In a statement today, LUNA Foundation Guard announced that it had raised $1 billion in a private token sale. The foundation is affiliated with Terraform, the company that developed Terra.
The fund was led by Three Arrows Capital and Jump Crypto. This makes it one of the biggest raises in the past few months. Other blockchain projects that have implemented their token sale are Solana and Avalanche.
In a tweet, the foundation said that most of these funds will go towards developing the ecosystem, which is made up of stablecoins and DeFi platforms.
Terra price prediction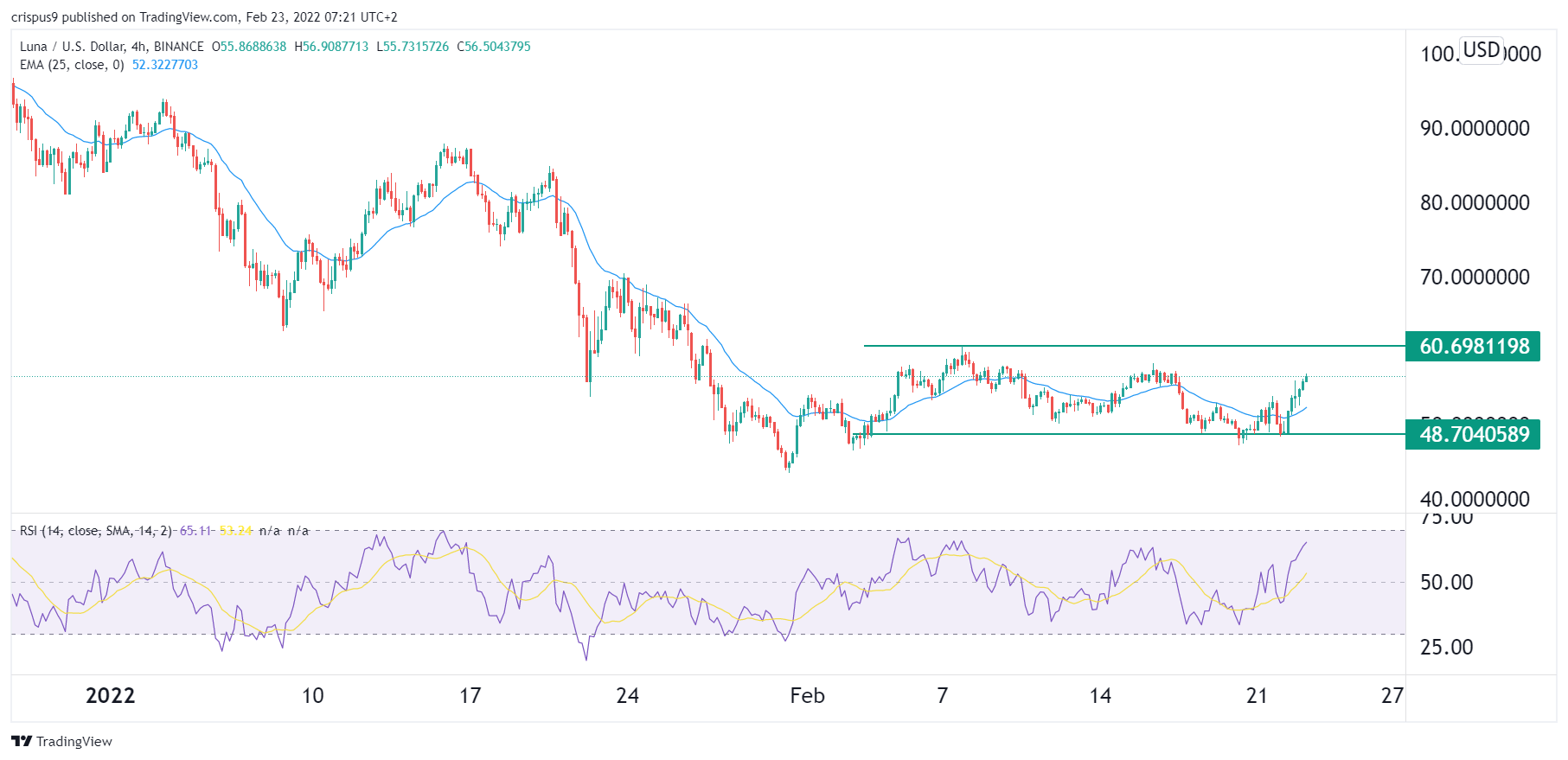 The four-hour chart shows that the LUNA price has made a steady recovery in the past few hours. It has risen from a low of about $48 to the current $56. Along the way, the coin's Relative Strength Index (RSI) has moved from the oversold level to the current 53.
It has also moved above the 25-day moving average and is currently approaching the key resistance level at $60. Therefore, there is a likelihood that the coin will keep rising in the coming sessions.