Is Ethereum a good buy as NFT volume crashes?
Ethereum price retreated sharply on Tuesday as concerns about the blockchain industry continued. It also declined as investors continued to watch the developments in Europe. It is trading at $2,600, which is about 21% below the highest level this month.
NFT volume retreats
Ethereum is a blockchain project that enables developers to build decentralized applications (DAPPs). Today, most of its usage is in industries like decentralized finance (DeFi), metaverse, gaming, and in Non-Fungible Tokens (NFTs).
NFTs are a leading industry that generated over $25 billion. That was a remarkable performance considering that the industry was barely in existence three years ago. Indeed, many companies like GameStop, RedBull, and Christie's have all announced plans to be key players in the sector.
Similarly, most sports teams have announced plans to launch their NFTs. The same is true among celebrities like Snoop Dogg and Katy Perry have sold NFTs worth millions of dollars.
However, a closer look at the market shows that it is slowing down. According to DeFi Llama, the total volume of NFTs traded in the past 24 hours has crashed by over 88% to $7.14 million. Those in Ethereum's blockchain has crashed by over 77% to about $6 million.

The same trend is happening in the Decentralised Finance industry. According to DeFi Llama, the total value locked (TVL) in Ethereum's blockchain has dropped to about $117 billion. At its peak, this TVL was more than $150 billion.
Therefore, there are concerns about whether Ethereum price will continue rising as the DeFi and NFT industry struggles. The most important concern is whether the sectors will do well as the Federal Starts rising interest rates in the coming month.
Ethereum price prediction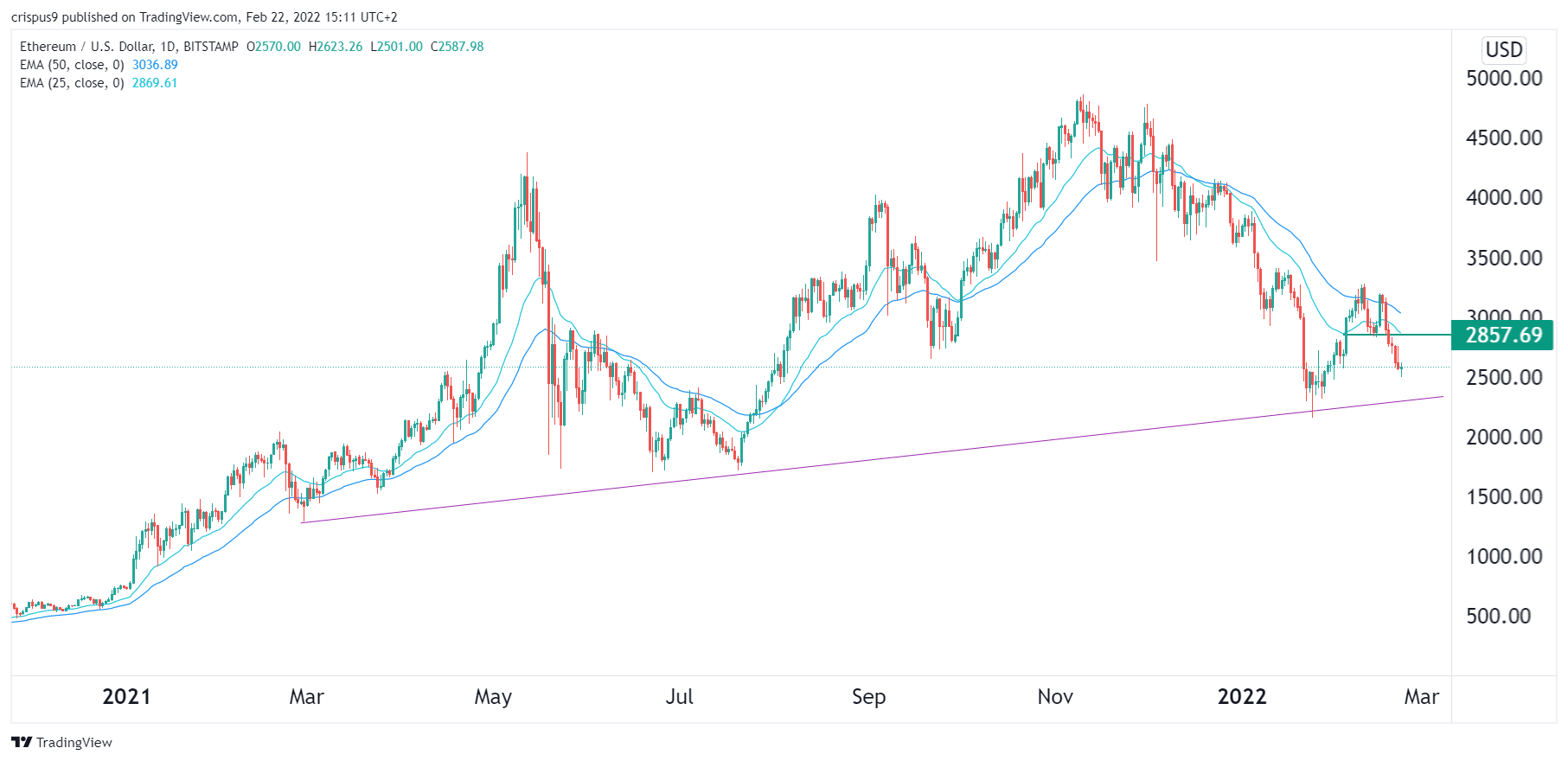 The daily chart shows that the ETH price has been in a strong bearish trend in the past few months. The coin has crashed by over 40% from its all-time high. As a result, it has moved below the 25-day and 50-day moving averages. It has also moved slightly below the key support at $2,857, which is along the chin of the double-top pattern.
Ethereum is also slightly above the ascending trendline shown in green. Therefore, there is a likelihood that the coin will keep falling as bears target the next key support level at $2,300.