Is Enjin coin an ideal buy amid an extremely hawkish Fed?
The Enjin Coin (ENJ/USD) price has declined slightly in the past two straight days as investors continued worrying about the Federal Reserve. The coin is trading at $1.8955, which is a few points below this week's high of $2.1500. It is about 62% below its all-time high, bringing its total market cap to $1.7 billion.
Rate hikes worries
The Federal Reserve published minutes of the past meeting on Wednesday. The minutes reinforced what most analysts were expecting. The showed that the committee was prepared to start hiking interest rates to curtain the rising consumer prices.
The minutes came shortly after the US published strong retail sales data. The numbers showed that the headline retail sales jumped to 3.8% in January while the core retail sales rose by 3.3%. This happened even as inflation rose to the highest level in more than 40 years.
Meanwhile, early this month, data by the Bureau of Labor Statistics showed that the economy is still adding thousands of jobs every month.
Therefore, there is no doubt that the Fed will hike rates in March and end its quantitative easing program. As such, such an aggressive tone is usually a bearish catalyst for risky assets like cryptocurrencies. That explains why Bitcoin and other altcoins have dropped sharply today.
The Enjin Coin price has dropped because it is highly exposed to risk assets. In addition to being a cryptocurrency, its business is about non-fungible tokens (NFTs), which are seen as being riskier.
Enjin is used widely in the NFT industry. Some of the companies that use ita platform to build these products are PlayNFT, Gamerse, Motobloq, and Binance.
Enjin Coin price prediction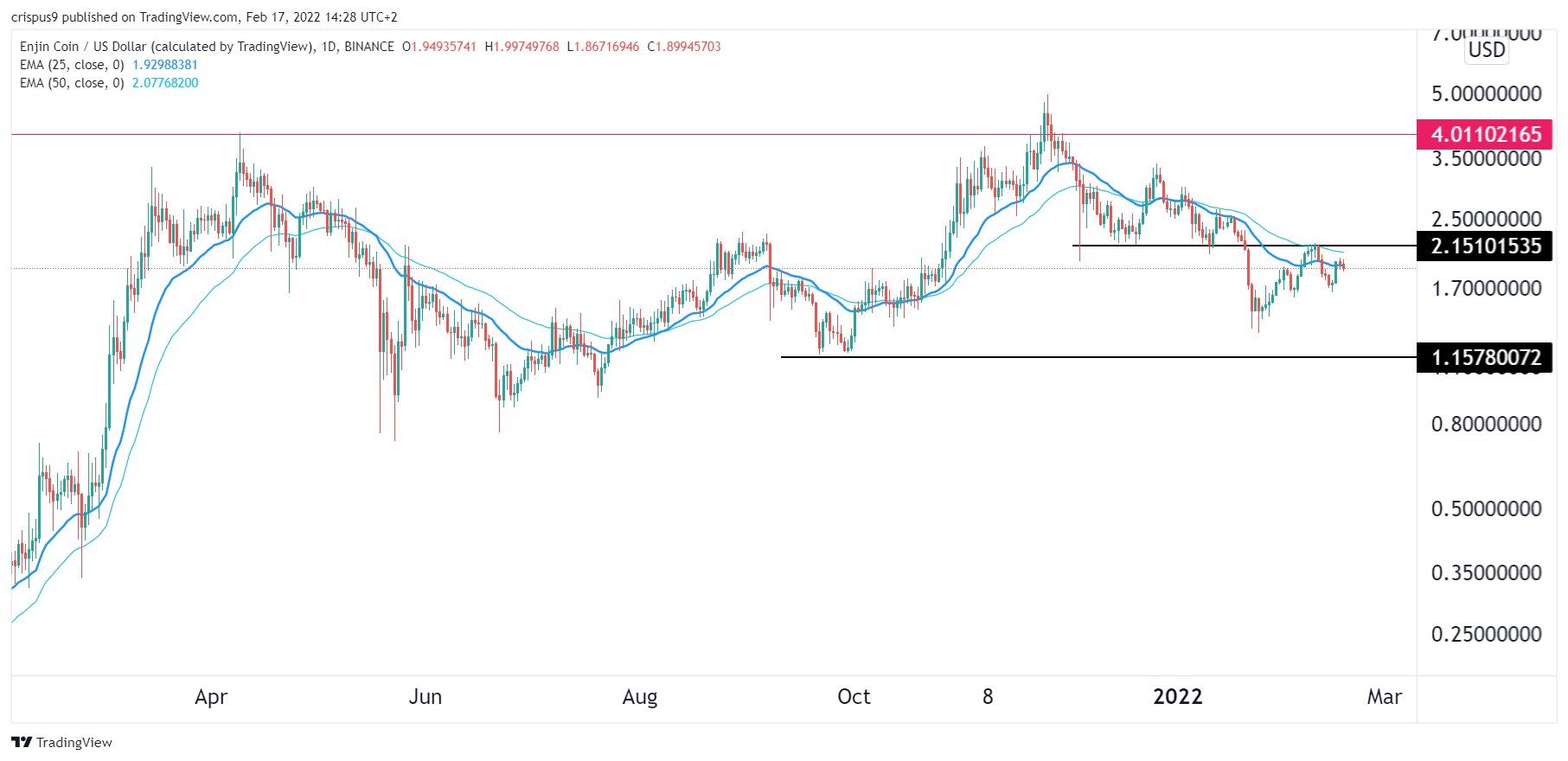 The daily chart shows that the ENJ coin price soared to an all-time high of $5 on November 25th 2021. Since then, the coin has dropped by more than 60%. Other coins like Bitcoin and Ethereum have also dropped during this period.
The Enjin Coin has dropped below the 25-day and 50-day moving averages. It has also formed a break and retest pattern by rising to $2.15, which was the lowest point in December.
Therefore, there is a likelihood that the coin will resume the bearish trend as bears target the next key support at $1.33, which was the lowest point this year.