How will the ALGO token grow after LimeWire partnered with Algorand to launch its NFT marketplace?
LimeWire made an official announcement that it will use Algorand as the basis of its NFT marketplace.

Algorand was picked due to its reliance on staking and for its energy efficiency.

ALGO has potential for growth due to this development.
Algorand (ALGO) is essentially this blockchain platform that is specifically designed as a major payments processor and utilizes the Proof-of-Stake (PoS) consensus mechanism.
ALGO is the native cryptocurrency token used to secure the platform and reward the platform's operators.
The LimeWire NFT marketplace launch as a catalyst for growth
On March 14, 2022, LimeWire made an announcement where they are essentially saying that they will mint their NFTs and collectibles on the Algorand blockchain and that a token will be launched throughout 2022.
The LimeWire NFTs will feature music-related media, and its custom token will have a variety of different functions, such as providing access to community features, voting, and rewards.
What this essentially means is that LimeWire will relaunch as a mainstream-ready digital collectibles marketplace for art and entertainment.
This LimeWire relaunch has the aim of becoming the one-stop marketplace for artists and fans, where they can create as well as trade digital collectibles without any technical hurdles.
Due to these developments, the ALGO tokens can grow in value as well as utility.
Should you buy Algorand (ALGO)?
On March 15, 2022, Algorand (ALGO) had a value of $0.6830.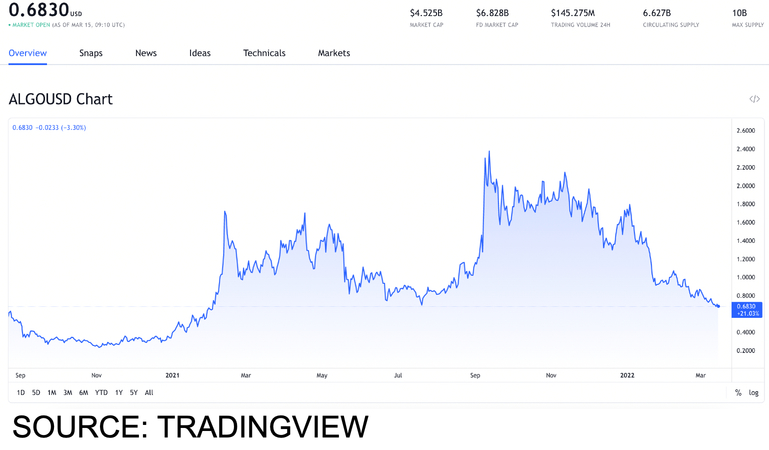 In order for us to get a better perspective as to what kind of value point this is for the Algorand (ALGO) token, we will be going over its all-time high value, as well as the performance the token showcased throughout the previous month.
In terms of the all-time high point of value, Algorand (ALGO) was worth $3.58 on June 20, 2019. Here, we can see that at its ATH, the token was $2.897 higher in value, or by 424%.
When we go over the performance of the token throughout the previous month, Algorand (ALGO) had its highest point of value on February 8 at $1.098, while its lowest point of value was on February 24, when the token decreased to $0.708.
This gives us an indication that the token decreased in value by $0.39 or by 35%. With this in mind, we can expect Algorand (ALGO) to climb to a value of $1 by the end of March 2022, making it a worthwhile token to buy.