Here's why the Litecoin price has crashed to 2020 lows
The Litecoin price is hovering near its lowest level since December 2020 as concerns about the cryptocurrency industry grew. LTC is trading at $101, which is significantly lower than last year's high of $415. Its market capitalization has collapsed to about $7 billion while its ranking in the cryptocurrency industry has fallen to 22nd. At its peak, Litecoin was among the top ten.
US inflation data
The main reason why the LTC price has dropped sharply in the past few months is that demand for cryptocurrencies has been significantly lower. This is evidenced by the fact that the overall volume of coins traded in most exchanges like Binance and Coinbase has been in a strong downward trend.
There are several reasons for this. For example, many traders who lost money in the crash that happened in May last year are yet to come back. Many have shunned an industry that saw them lose substantial sums of money.
Another reason is that fiscal conditions have changed remarkably in the past few months. In 2020, the US passed multiple stimulus packages worth trillions of dollars. There were the $2,000 stimulus checks issued in the first quarter and the generous unemployment benefits. Most people used these funds to invest in cryptocurrencies like Litecoin.
The US has not offered a stimulus package in the past few months and Joe Biden's Build Back Better plan has stalled in Congress.
Meanwhile, the Fed has also turned hawkish in a bid to prevent the economy from heating up. Analysts expect that the bank will hike interest rates for the first time since the pandemic started next week. Historically, cryptocurrencies like LTC tend to underperform in a period of high-interest rates.
Later today, the coin will react to the latest US inflation data. Analysts expect that the headline CPI jumped to the highest level in over 40 years.
Litecoin price prediction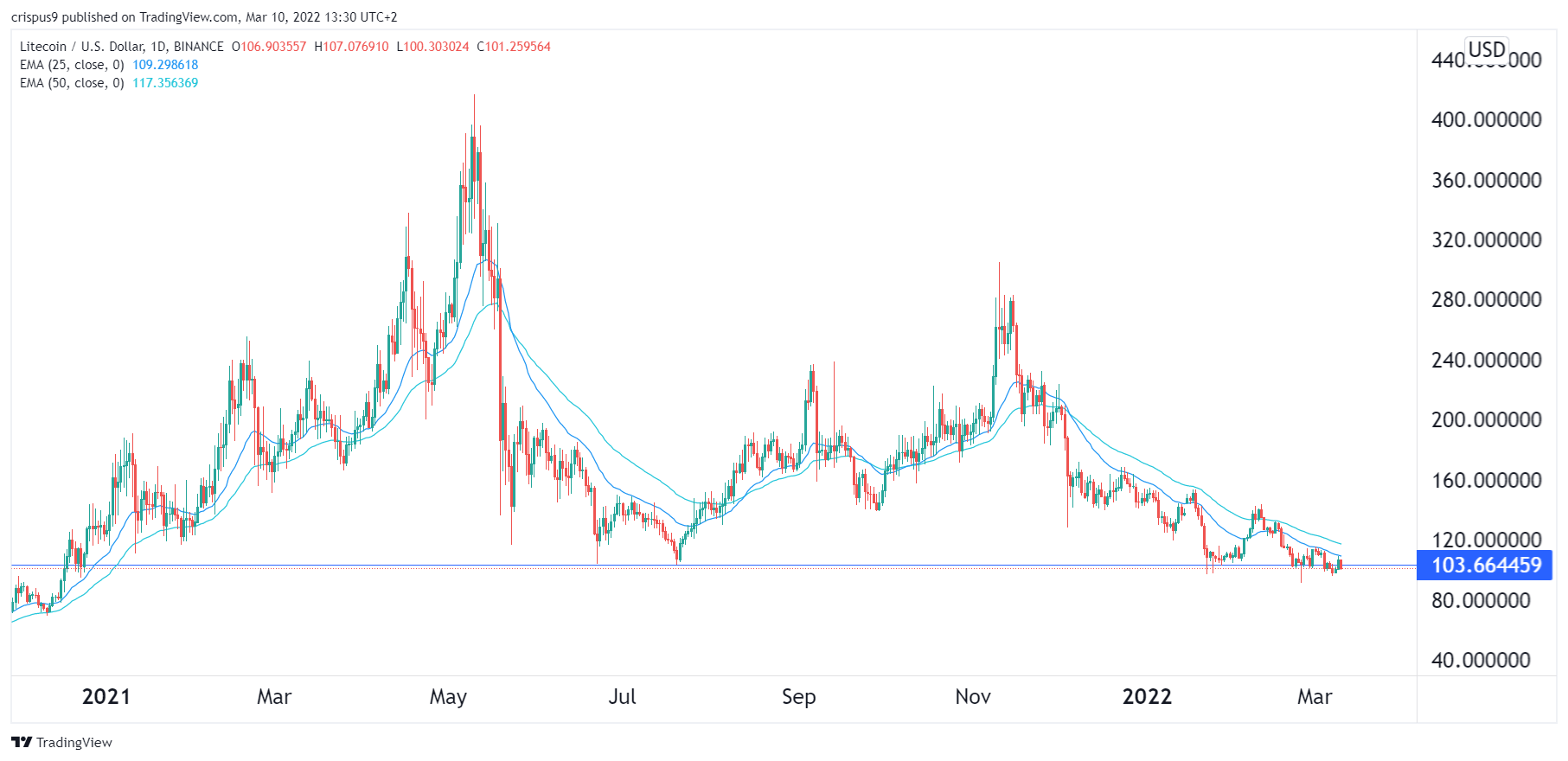 The daily chart shows that the LTC price has been in a strong bearish trend in the past few days. As a result, the coin is currently sitting at an important level of support since it struggled to move below the level in July last year.
Litecoin is also below the 25-day and 50-day exponential moving averages and has formed a head and shoulders pattern. Therefore, there is a likelihood that the coin will have a bearish breakout in the near term.