Here's why the Dash price has bounced back lately
The Dash price jumped sharply on Wednesday as demand for privacy tokens rose. The coin rose to an intraday high of $101.36, which was the highest level since March 3rd. It has risen by more than 27% from the lowest level in February. This means that its coin's market capitalization has risen to over $1 billion.
Why is Dash rising?
Dash is a privacy-focused token that allows people to send money in a secure network that is hard to track. This is unlike Bitcoin, which uses a public ledger whose transactions can be tracked easily.
In the past few weeks, the world has focused on Ukraine, where Vladimir Putin has increased his assault on civilians and millitary bases. As a result, millions of people have become refugees.
Russia has also become more isolated. Western governments have announced severe sanctions, including blocking the Central Bank of Russia (CBR) from accessing its funds. The biggest Russian banks have been eliminated from the SWIFT network while the United States and UK have announced that they will stop buying Russian oil.
The European Union has also unveiled plans to reduce its Russian gas imports by two-thirds this year. Therefore, analysts believe that Russia will respond to these sanctions by launching cyberattacks targeting critical infrastructure.
The most effective attacks are ransomware, where hackers gain access to a system and then block all activities until they are paid. For example, hackers stopped the flow of oil in the US when they hacked the Colonial pipeline.
Therefore, privacy tokens like Monero and Dash prices have risen as investors anticipate more demand for the coins. This is simply because Bitcoin has become a toxic asset among cybercriminals because its transactions can be tracked. Privacy tokens transactions are incredibly secure.
Dash price prediction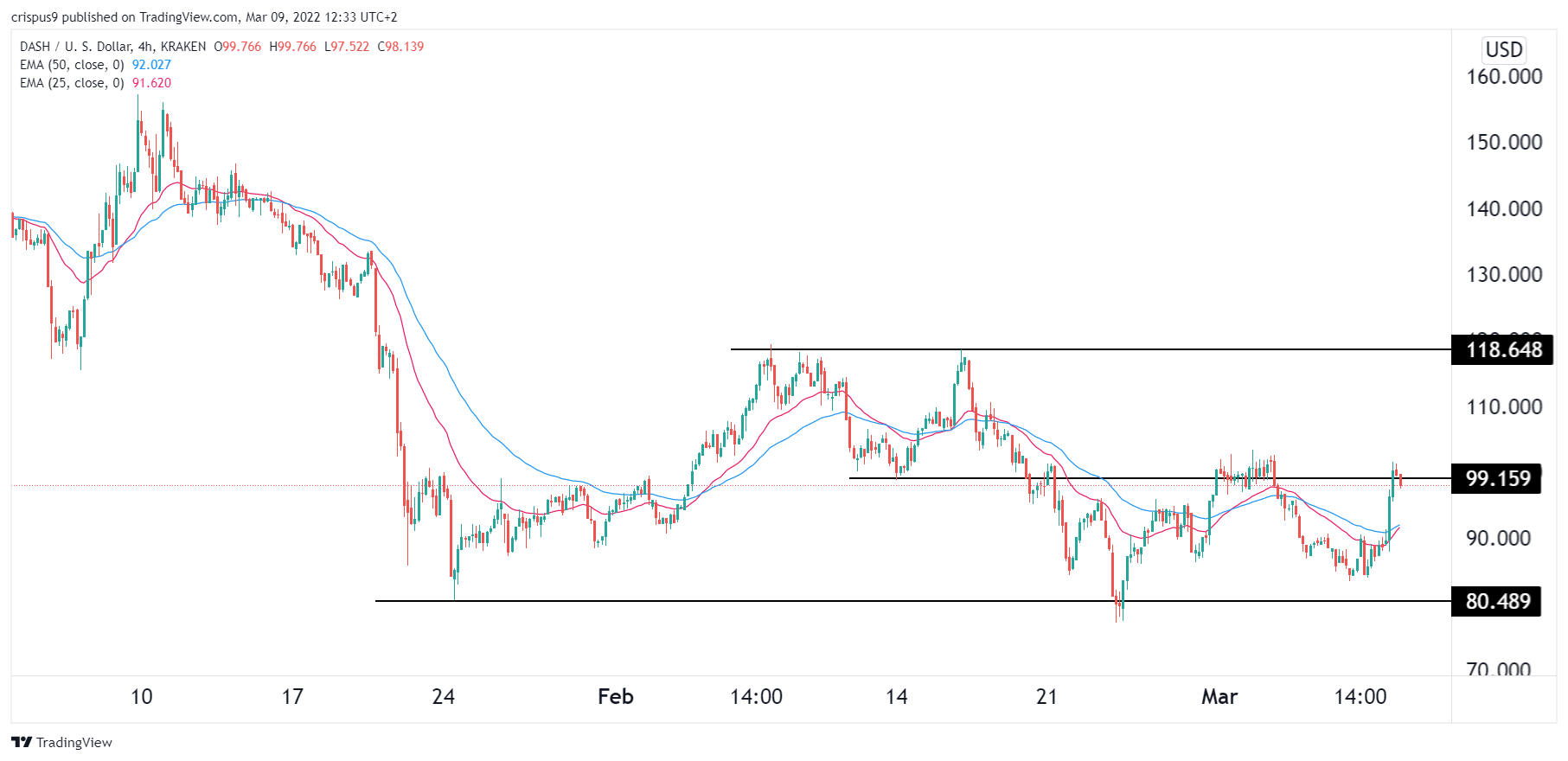 The four-hour chart shows that the DASH price has been in an overall bearish trend of late. Recently, however, it has managed to move from the February low of $77 to about $100. It has also risen above the key resistance at $99, which was the lowest level on February 14th. It is also slightly above the 25-day and 50-day moving averages.
Therefore, there is a likelihood that the Dash token price will continue rising as bulls target the next key resistance level at $118, which was the highest level in February. A drop below the support at $90 will invalidate the bullish view.