Here is why SCRT is up by more than 5% in the last 24 hours
The cryptocurrency market is currently underperforming, but SCRT has added more than 5% to its value in the last 24 hours.
The broader cryptocurrency market continues to underperform after wiping out nearly $100 billion since the start of the week. Bitcoin has dropped below the $43k support level and could lose its support around the $39k mark in the coming hours.
Ether is also down by more than 7% in the last 24 hours and is currently trading around $3,100 per coin. Despite the broader cryptocurrency market underperforming, SCRT, the native token of the Secret blockchain, is up by more than 5% so far today.
SCRT is rallying ahead of Quentin Tarantino's first NFT collection launch. The star director will launch his NFT collection on the Secret blockchain on January 17. Secret Network is an interoperable blockchain infrastructure that aims to enable computational privacy for general-purpose smart contracts.
SCRT is one of the top performers in the cryptocurrency market over the past 24 hours and could continue its rally over the weekend.
Key levels to watch
The SCRT/BUSD 4-hour chart is one of the most bullish cryptocurrencies in the market at the moment. The technical indicators show that SCRT is performing excellently and could extend its win in the coming hours.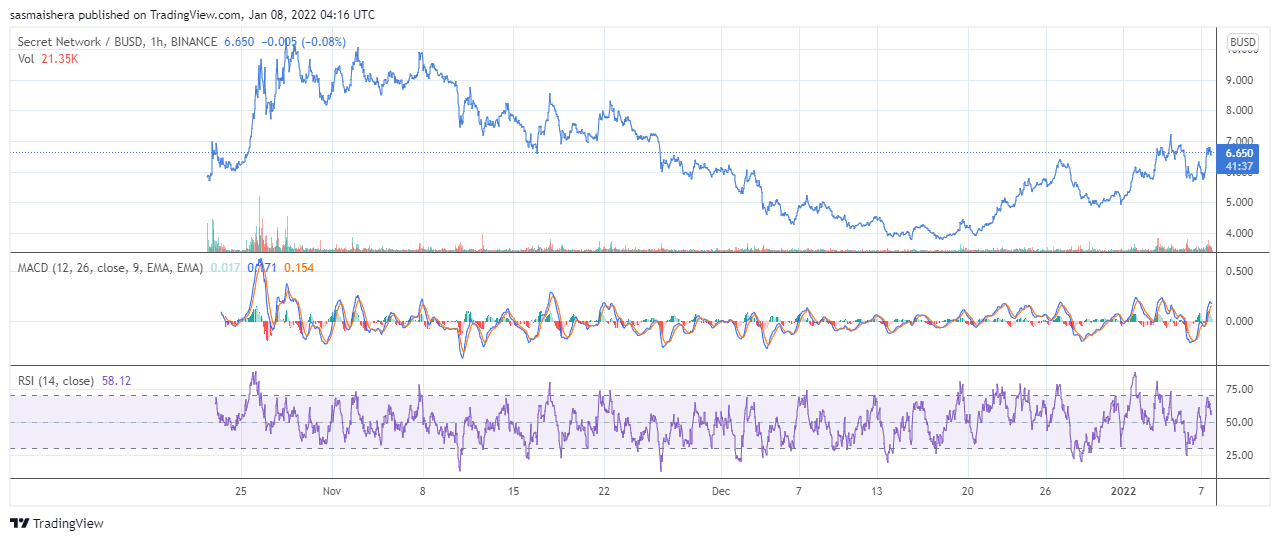 SCRT's MACD line is above the neutral zone, indicating a positive trend in its performance. The 14-day relative strength index of 58 indicates that SCRT could soon enter the overbought region. At press time, SCRT is trading above its 50-day simple moving average.
At press time, SCRT is trading at $6.7 per coin. If the rally continues, SCRT will surpass the $7 psychological level over the next few hours. An extended rally would see SCRT cross the $8 mark before the end of the weekend.