Here is why OMG dipped by over 20% in the past 24 hours
OMG network has lost nearly a quarter of its value over the past 24 hours despite the crypto market facing a slight correction.
The cryptocurrency has slightly retraced from the all-time highs achieved earlier this week. Bitcoin and Ether touched new all-time highs earlier this week, with BTC reaching the $69k level while Ether rallied past the $4,800 mark.
However, OMG is one of the biggest losers in the market at the moment. The cryptocurrency's price has lost more than 24% of its value over the past 24 hours. The losses have seen the price dip below the $14 mark for the first time in weeks.
The dip comes following the completion of the snapshot for an airdrop from the Boba Network. There was a snapshot of all wallets holding the OMG tokens on the Ethereum blockchain and the layer-two Boba Network earlier today.
Following the snapshot, OMG holders will receive BOBA, the BobaDAO governance token, on 19 November. However, the snapshot led to a massive dip in OMG's price as analysts stated that OMG holders sold their coins prior to the news.
🚨 Crypto alert:
[#OMG–#BTC] Bizarre Activity alert (15m)
[#OMG–#USDT] Bizarre Activity alert (15m) pic.twitter.com/OnmfSltaGo

— 100eyes Crypto Scanner 🌐 (@100eyesCrypto) November 12, 2021
Key levels to watch
The OMG/USD 4-hour chart is extremely bearish at the moment, following the latest decline in prices. The MACD line is deep into the bearish territory, while the RSI of 34 shows that the OMG token is currently oversold.
OMG is trading way below its 100-day simple moving average at $16, indicating that it has underperformed over the past 24 hours.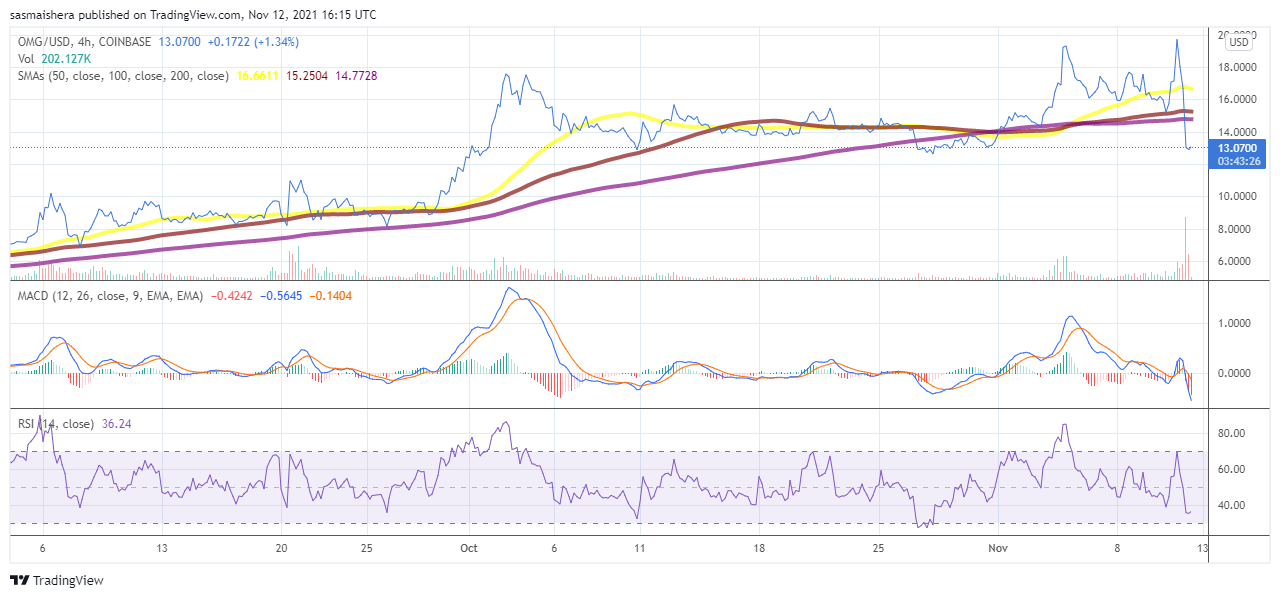 What to expect
The OMG token could dip even further over the coming hours as the selling pressure on the cryptocurrency increases. With the broader cryptocurrency market still correcting, OMG's price could dip further.
OMG could test the support level at $10.67 over the coming hours if the current trend is maintained. At the time of writing, OMG is trading at $12.6 per coin. An extended sell-off could see OMG drop to the $9 level for the first time since September.