Here is why Kadena continues to rally despite the market dip
The broader cryptocurrency market has started the day with a slight dip, but Kadena continues to trade in the green zone.
The cryptocurrency market rallied yesterday, with Bitcoin hitting a new all-time high above $69,000. However, BTC's price has slightly dipped, and it is now trading below the $65k level across multiple crypto exchanges.
Some other leading cryptocurrencies, including Ether, Binance Coin, Cardano, Polkadot and Dogecoin, are also trading in the red zone. Of the few coins trading positively, Kadena (KDA) is one of the top performers.
Kadena has been up by nearly 10% over the past 24 hours, and its weekly gains are up by 160%, making it one of the best performing coins in the market. Kadena's rally has extended for the past few weeks, and it is fueled by the blockchain's entry into the decentralised finance (DeFi) and nonfungible token (NFT) sectors.
Kadena launched a wrapped version of its token called wKDA last week, signalling its entry into the DeFi space. The wrapped version of its token operates on the Ethereum blockchain and interacts with the other major Ethereum Virtual Machine-compatible DeFi protocols.
The Kadena blockchain is now host to some NFT projects. The UFO team announced a few weeks ago that it is launching an NFT gaming platform on the Kadena network.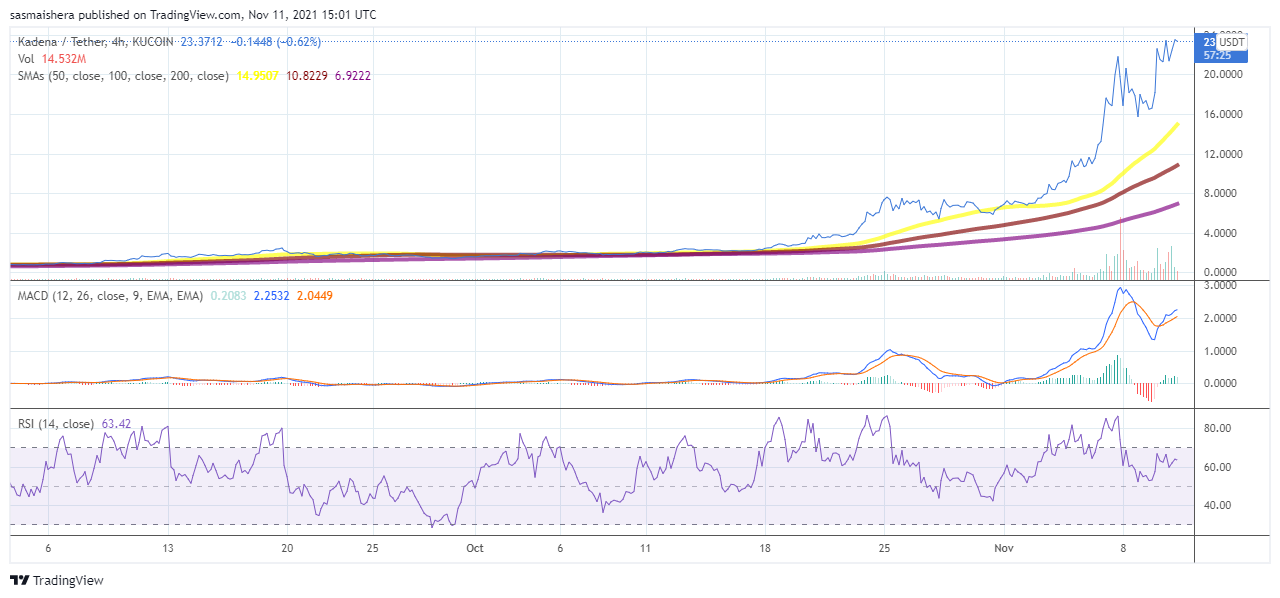 What to expect
The KDA/USD 4-hour chart is very bullish, thanks to the coin's performance over the past few weeks. At press time, the MACD line is above the threshold, indicating bullish momentum. Meanwhile, the RSI of 63 shows KDA is heading into the overbought territory.
KDA is currently trading at $23.38 per coin. If the coin continues with its current momentum, then it could test its all-time high price of $25.34 over the next few hours or days. Surpassing the $25.34 all-time high price could allow KDA to rally higher and move towards the $28 psychological point over the next few days.
However, KDA could also retrace after rallying for more than a week. A fall to the $20 pivot level could trigger further sell-off, and KDA might trade around the $18 region if that happens.