Here is why Elrond reached a new all-time high despite the bear market
The total cryptocurrency market cap has dropped below the $2.7 trillion mark, but some coins have been performing well.
The past two weeks have been tough for the broader cryptocurrency market, with the prices of most coins down by more than 10% during that period. The total cryptocurrency market cap has dropped from the recent all-time high of $3 trillion
Elrond (EGLD) is one of the top-performing coins in the market at the moment and has rallied by more than 60% over the past three days. EGLD reached a new all-time high of $545 an hour ago, rallying by more than 12% over the last 24 hours.
EGLD has been rallying since Elrond introduced the $1.29 billion liquidity incentive program on Friday. The incentive is designed to supercharge the upcoming launch of Elrond's native decentralised exchange, Maiar.
The decentralised exchange is set to use its utility and governance token – MEX – to transfer the funds. The team said a total of $282 million of the amount would be distributed in the first month to users of the decentralised exchange who provide liquidity in EGLD, MEX, and USDC.
Key levels to watch
The EGLD/USD 4-hour chart is one of the most bullish in the cryptocurrency space at the moment. The coin's MACD line is above the neutral zone, which shows a bullish performance in recent days. Furthermore, its RSI of 77.50 shows that EGLD is currently overbought.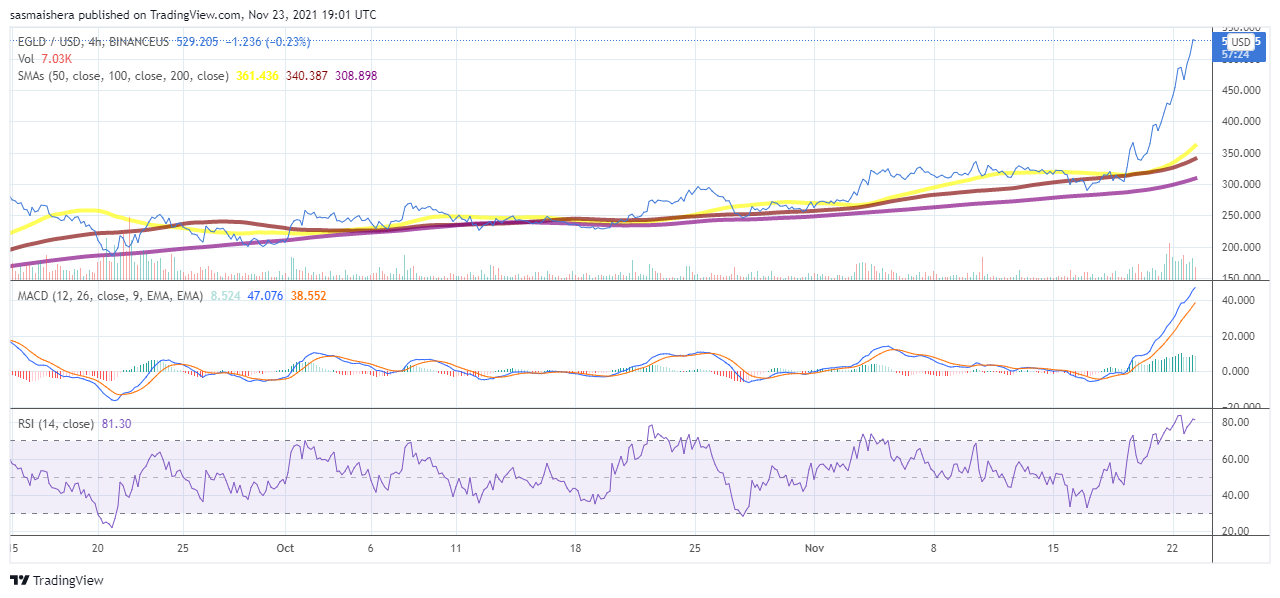 The rally comes despite the broader market currently in a bearish trend. If the current momentum is maintained, then EGLD could rally higher over the coming hours and reach a new all-time high above the $600 level. Unless there is an extended rally from the broader market, the $650 level should cap further upward movement in the short term.
Following its recent rally, EGLD could slightly retreat towards the $500 level in the coming hours. The bears are in control of the broader market and could force EGLD's value to drop below the $500 mark a few hours after surpassing that level.