Here is why AVAX rallied to a new all-time high above $110
AVAX has hit a new all-time high despite the broader cryptocurrency market underperforming for the fourth consecutive day this week.
AVAX, the native token of the Avalanche ecosystem, reached a new all-time high of $110 a few hours ago. The coin rallied by more than 10% over the past 24 hours to reach a high of $110 despite the broader cryptocurrency market underperforming.
At press time, AVAX has dropped to the $104 level but remains one of the best performers in the cryptocurrency market. The rally comes thanks to the Avalanche network experiencing massive growth in its decentralised finance (DeFi) ecosystem.
According to the DeFi data tracking website DeFi Llama, the total value of funds locked in Avalanche DeFi protocols reached $10 billion a few hours. This latest development makes Avalanche one of the top DeFi networks in the cryptocurrency space.
AVAX is the twelfth-largest cryptocurrency by market cap, and the Avalanche network is challenging leading blockchains such as Ethereum, Solana, Cardano and Binance Smart Chain in the DeFi space.
Key levels to watch
The AVAX/USD 4-hour chart is one of the most bullish amongst the top 20 cryptocurrencies by market cap. At press time, AVAX is up by more than 5% over the past 24 hours and is trading above $104 per coin.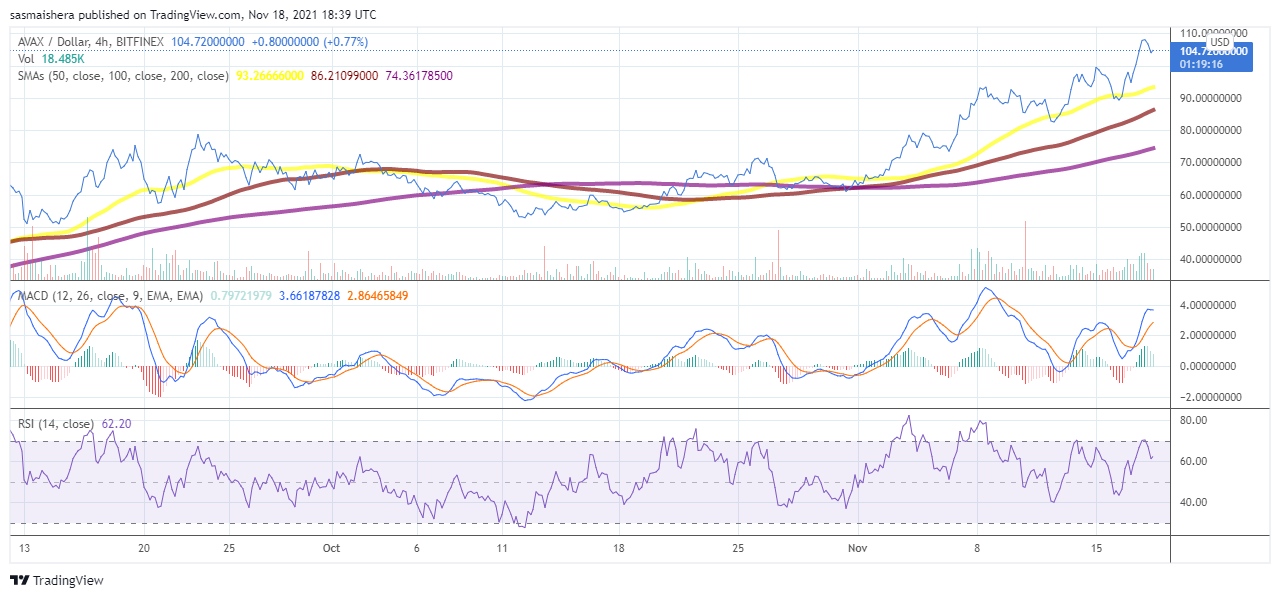 AVAX's MACD line is above the neutral level, while its relative strength index of 61 shows that the cryptocurrency is bullish, and a further rally could be recorded soon. If the current market momentum is maintained, AVAX could reclaim its all-time high level in the coming hours.
An extended positive performance from AVAX could push it to a new all-time high around the $115 level. However, it would need the support of the broader crypto market to rally higher over the coming days and weeks.
AVAX could also retrace following its recent rally. The cryptocurrency could test the $100 support level. However, unless there is a sell-off in the broader crypto market, AVAX should comfortably stay above $95 per coin.