Filecoin price gains momentum as investors embrace fallen angels
The Filecoin price popped on Monday as investors rushed to cryptocurrency fallen angels. The coin jumped by over 30% in a 24-hour period, bringing it to the highest level since February. Other fallen angels like Zilliqa, VeChain, and Internet Computer also jumped.
Yield curve inversion
Filecoin is a blockchain project that seeks to provide a better alternative in the file storage industry that is currently dominated by the likes of Amazon and Google.
The platform uses a decentralized approach to enable anyone to become a data center provider by sharing their free storage and bandwidth.
The benefit of this model is that it ensures that data is safer than one stored in centralized platforms. Also, data is usually located close to users, which helps to reduce the lag that exists today.
Filecoin has been embraced widely in the blockchain industry. For example, many developers select the platform as a file storage alternative. It has also gained a market share as a valuable platform for storing non-fungible tokens (NFT).
Filecoin was once one of the hottest cryptocurrencies in the industry as it was ranked among the top 20. In the past few months, however, it lost its luster and dropped as demand for the coin declined. Also, competition from the likes of Storj and Arweave kept rising.
The Filecoin price is rising as investors embrace coins that were once hot like VeChain and Zilliqa. The jump is also likely because of the strength of the Filecoin Virtual Machine, which is a useful tool for web 3.0 applications and the metaverse.
The rebound is also because of the ongoing rally of Bitcoin, Ethereum, and other cryptocurrencies. It is a notable price action considering that the macro picture looks uncertain with the yield curve inverting.
Filecoin price prediction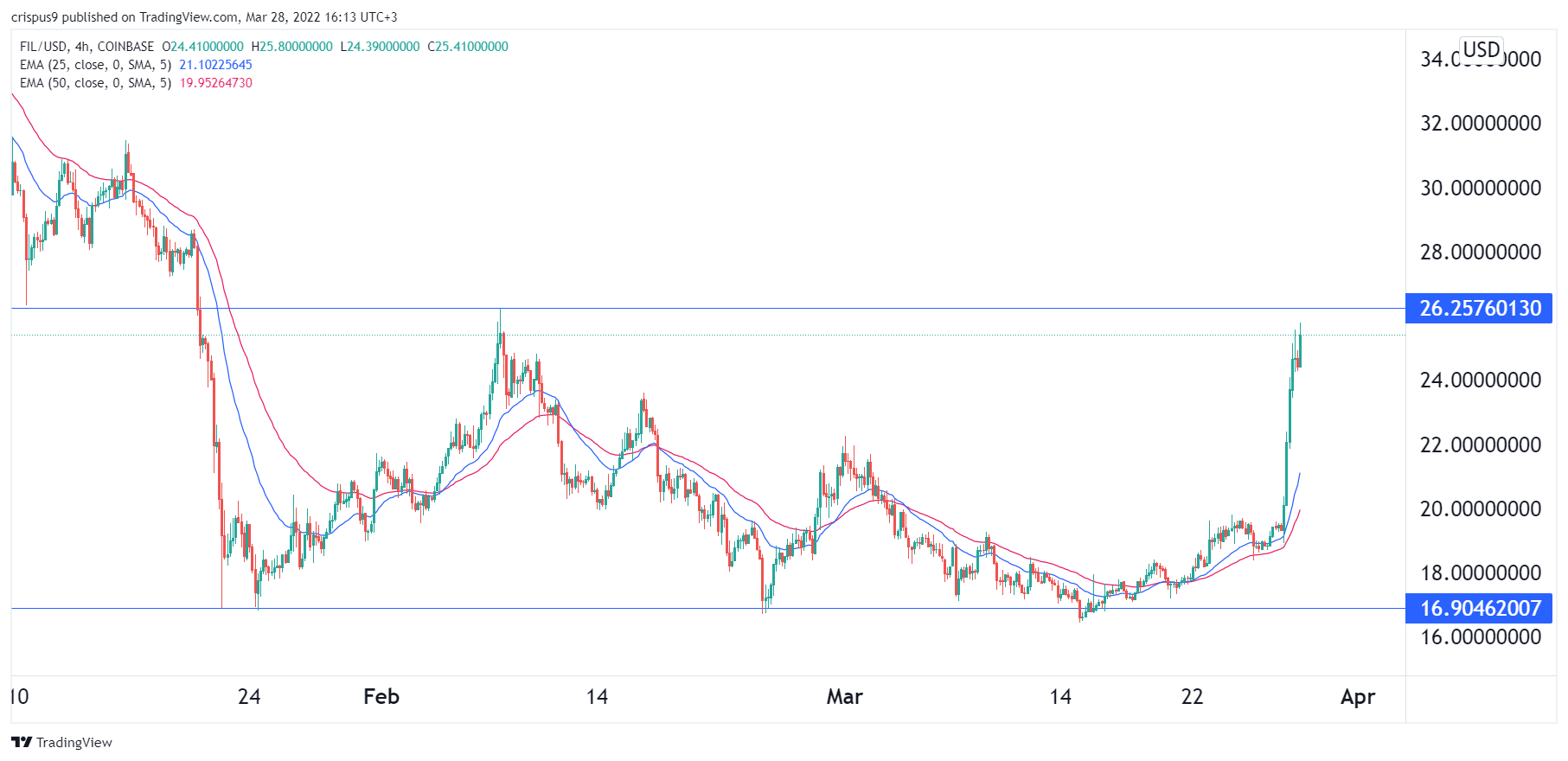 The four-hour chart shows that the FIL price has been in a strong bullish trend in the past few weeks. This rally started when it found a strong support at $16.90. It has now moved above the 25-day and 50-day moving averages. It is also nearing the important resistance level at $26.25, which was the highest point on February 8th this year.
Therefore, there is a likelihood that the Filecoin price will continue rising as bulls target the next key resistance level at $30.