Ethereum Classic price prediction after the spectacular rally
Ethereum Classic (ETC) price has staged a strong recovery in the past few weeks as demand for the embattled cryptocurrency rise. The coin has risen to $44, which is the highest it has been since December 8th last year. It has jumped by over 100% from its lowest level this year.
Ethereum Classic rebound
Ethereum Classic has defied gravity in the past few weeks. While popular coins like Bitcoin and Ethereum have remained in a tight range, its price has more than doubled, bringing its total market cap to over $5.7 billion. It has moved to become the 29th biggest cryptocurrency in the world.
Ethereum Classic is a blockchain project that has smart contract features that make it possible for developers to build quality decentralized applications of all industries. Its main principle is that code is law, which means that code should have unstoppability, decentralization, and censorship resistance features.
Ethereum Classic is often viewed as a more decentralized platform than the main Ethereum. In its website, it states that it has 'no official anything', preventing 'official capture' that hinders decentralization. It also sees its foundation as being miraculous and one that cannot be repeated.
However, from a fundamental perspective, Ethereum Classic faces multiple challenges ahead. First, unlike Ethereum and other fast-moving projects, there are few developers in its ecosystem. Indeed, it is a bit difficult to find an application that was built using Ethereum Classic. As such, without any developers, it is a bit difficult for the platform to grow.
Second, Ethereum Classic is a proof-of-work platform, which makes it expensive and energy inefficient to produce new coins. The world is moving towards a proof-of-stake stake model, which is known for its speed and energy efficiency. Apps built using PoS platforms are known for their speed and low transaction costs.
Third, Ethereum Classic is vulnerable to 51%attacks because of the dominance of the biggest mining pools.
Ethereum Classic price is rising because of the upcoming Ethereum merge that will leave many miners behind.
Ethereum Classic price prediction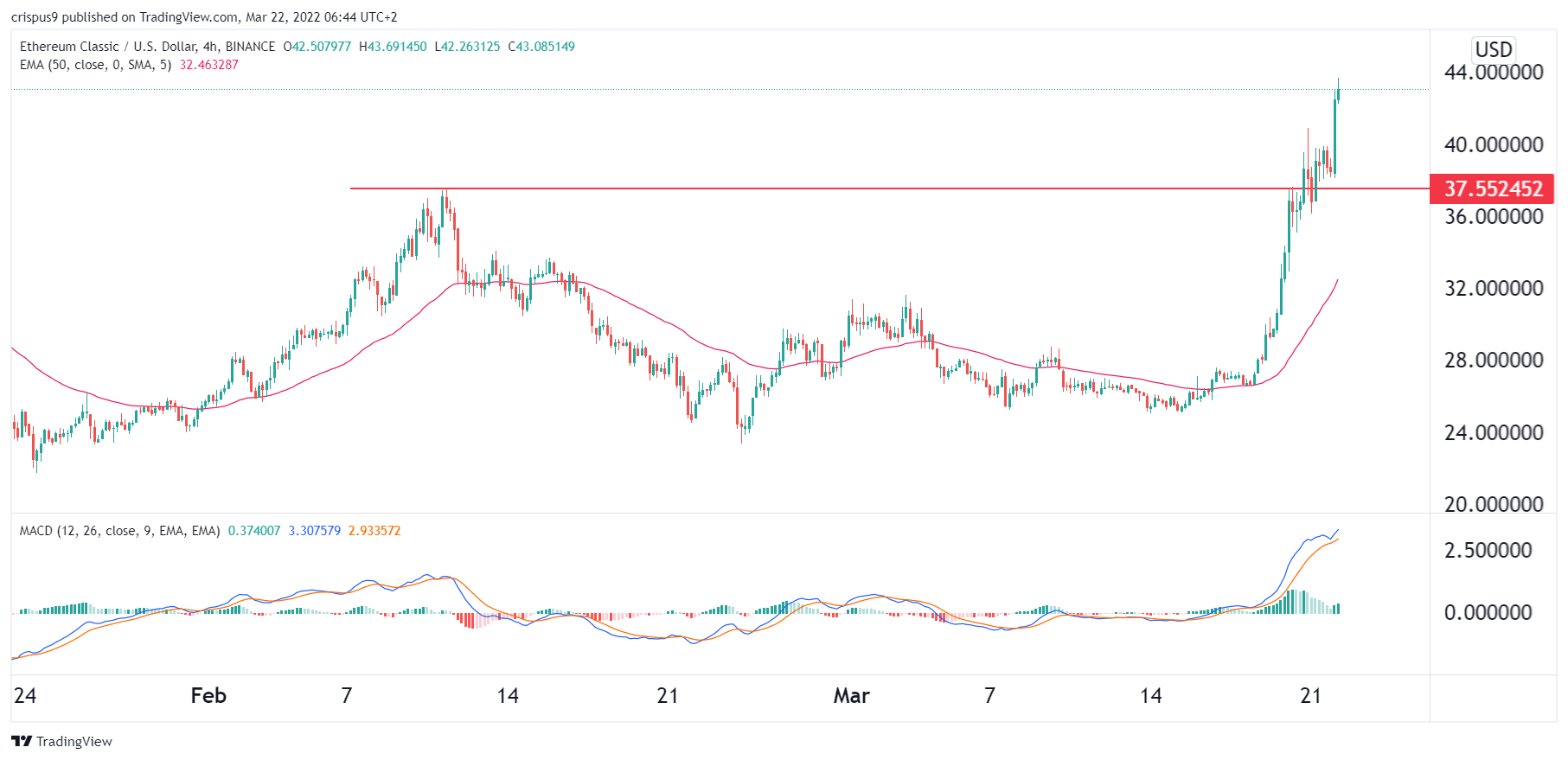 The daily chart shows that the ETC price has been in a strong bullish trend in the past few weeks. Its price has done so well such that it has risen above the key resistance level at $37.50, which was the highest point in February.
Ethereum Classic has also risen above 25-day and 50-day moving averages while the MACD has moved sharply above the neutral level. Therefore, there is a likelihood that the coin will keep rising as bulls target the next key resistance at $50