Cosmos price prediction as the ecosystem growth continues
The Cosmos price has been in a tight range in the past few days as investors remained optimistic about the ecosystem. The ATOM token is trading at $28.40, where it has been in the past few days. This price is about 38% below its all-time high, which is a better performance than most coins.
Cosmos ecosystem growth
Cosmos is one of the most unique networks in the blockchain network. It uses the Inter Blockchain Communication (IBC) technology to help build an interconnected ecosystem of apps.
This is useful because as for now, most cryptocurrencies are siloed and are therefore not able to communicate with one another. The technology has been embraced by more than 260 cryptocurrencies like Ankr, Binance Smart Chain, Crypto.com, and Decimal among others.
Cosmos also runs an SDK platform that helps developers build quality decentralized applications and organizations. The best known of these platforms is Terra, whose LUNA is now the 8th biggest cryptocurrency in the world.
Cosmos was also used to build Osmosis, a DeFi platform with billions in total value locked (TVL). And more DeFi platforms are set to be launched this year in Cosmos. For example, Archway is running a testnet on Cosmos. It is an incentivized smart contract platform that provides CosmWasm integration.
Other highly anticipated projects running their testnets in Cosmos Hub are Celestia, Tgrade, and Umee. Umee provides a decentralized infrastructure for all cross-chain integrations while Tgrade is the first regulated DeFi platform. Therefore, there is a likelihood that the Cosmos price will do well this year as its ecosystem grows.
Meanwhile, the ATOM price has been steady because of Gravity Bridge, which was launched a few months ago. To date, the network has moved to become one of the leading Cosmos chains. It has also been embraced by Cosmos NFT platform and launched initial airdrops for ATOM.
Cosmos price prediction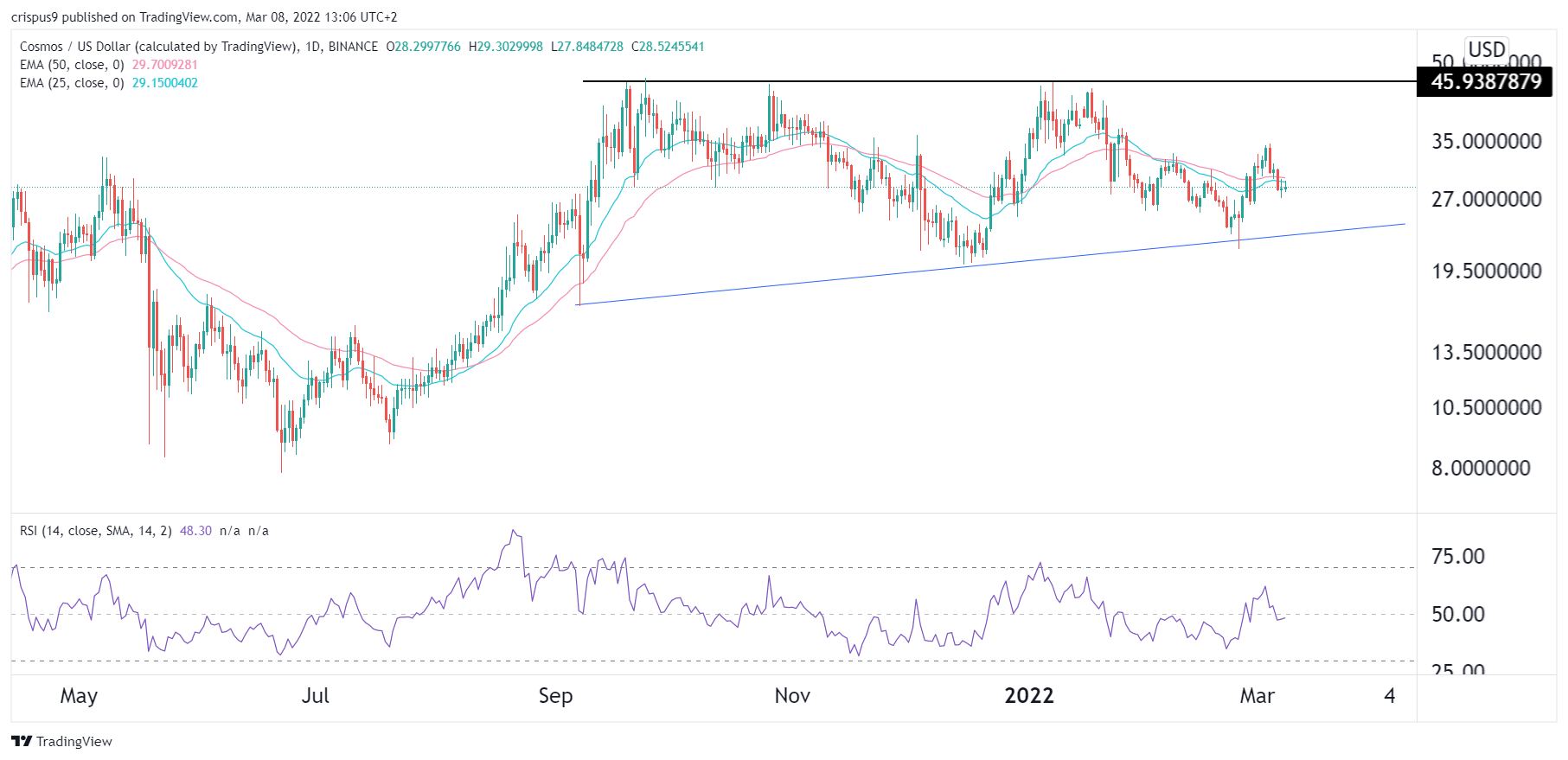 The daily chart shows that the ATOM price has been in a tight range in the past few days. The coin has managed to move below the key resistance level of $45, which was the highest point in 2021 and 2022. The coin has risen above the ascending trendline shown in blue and moved slightly below the 25-day and 50-day moving averages.
Therefore, there is a likelihood that the Cosmos price will bounce back in the coming days. If this happens, the next key level to watch will be at $45.