Cosmos price prediction as ATOM hits key support level
The Cosmos price dropped to a key support level on Thursday as investors reacted to the ongoing crisis in Europe. It is now trading at $24.75, which is a few points above this week's low of $21.75. Its total market capitalization has risen to over $7.2 billion, making it the 21st biggest cryptocurrency in the world.
Cosmos bounces back
Cosmos is a leading blockchain platform that aims to make the industry much better. It uses the Inter-Blockchain Communication (IBC) technology to connect multiple cryptocurrencies that are created using the same or different chains.
According to its website, it has been used by hundreds of cryptocurrencies like Binance Coin, LUNA, and Crypto.com to ensure that they can communicate with each other well. The coins in its ecosystem have a total market capital valuation of over $150 billion.
Cosmos also has an SDK, which is a tool that helps developers build decentralized projects that are interconnected with one another. Terra is the most successful of these applications. It has a market cap of over $25 billion, making it the 9th biggest coin in the world. Osmosis is another key project that is built using the Cosmos SDK.
Like all cryptocurrencies, the ATOM price has been under intense pressure in the past few months. Its has crashed by about 45% from its highest time this year. This drop is due to the lingering fear that the Federal Reserve will embrace a more hawkish tone this year. Already, analysts expect that the bank will deliver about three rate hikes.
The decline also happened because of the ongoing geopolitical tensions in Europe. On Thursday, Vladimir Putin announced an attack on Ukraine, which dragged most assets lower.
In the overnight session, however, the Cosmos price rose as investors cheered the sanctions by President Biden. They believe that these sanctions don't go far enough to deter Putin.
Cosmos price prediction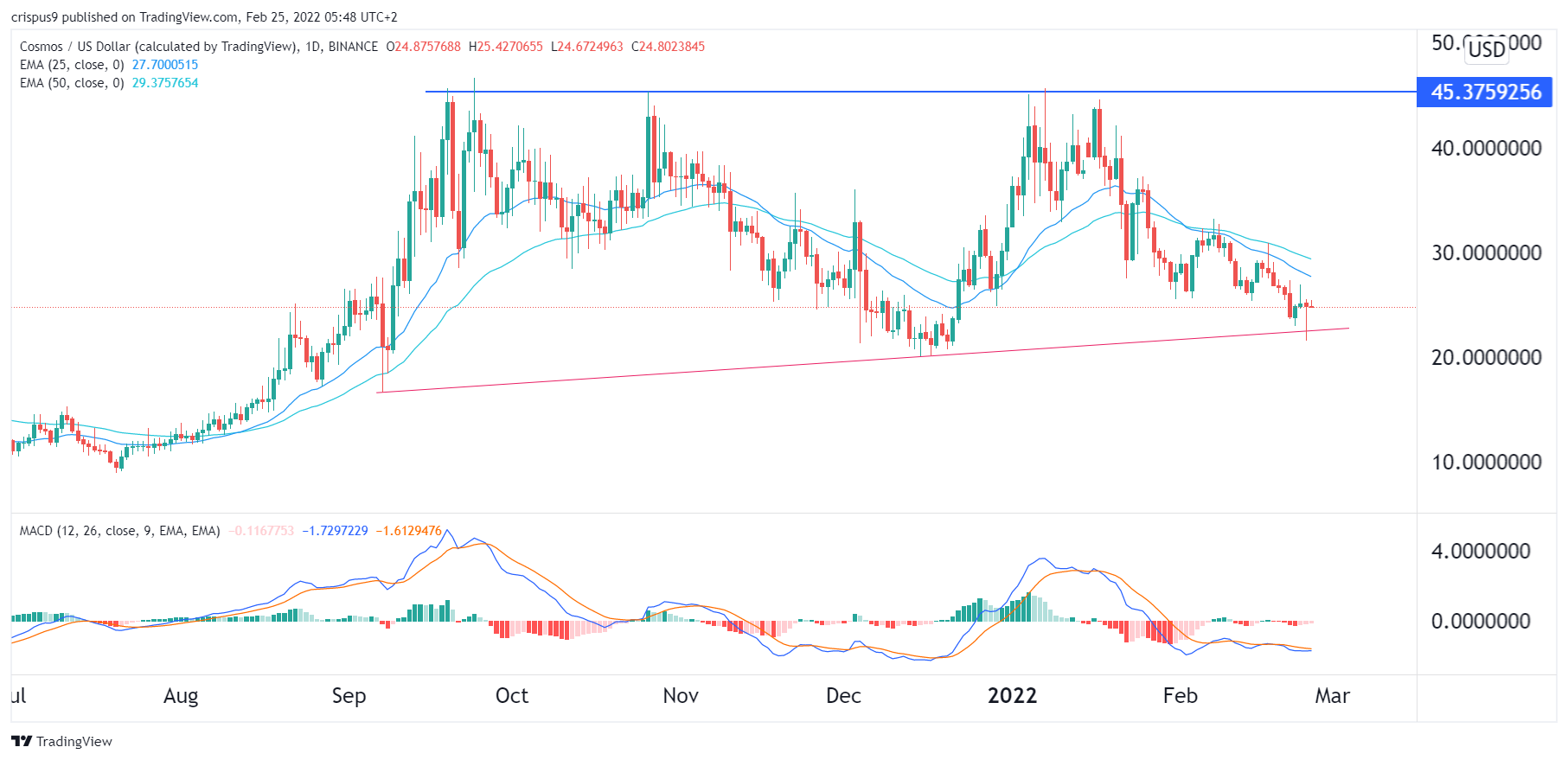 The daily chart shows that the ATOM price has been in a strong bearish trend in the past few months. As a result, the coin has managed to move below the 25-day and 50-day moving averages. A closer look shows that it retested a key support at $21.76 on Thursday. This price was along the ascending trendline that is shown in blue.
Therefore, the rebound experience on Friday is part of a dead cat bounce, meaning that the bearish trend remains intact in the near term.