Chiliz price prediction as the fan token industry struggles
The Chiliz price has been under intense pressure in the past few months as investors worry about the market size of the fan token industry. It is trading at $0.1751, which is about 82% below its all-time high while its market capitalization has dropped to about $940 million.
Fan Token industry struggles
Chiliz is a leading blockchain platform that has seen better days. At its peak, the network had a market capitalization of over $2 billion. It was also among the top 50 of the biggest cryptocurrencies. Today, its value has moved below $1 billion while its ranking is approaching 100.
Chiliz is a bit more unique than most blockchain projects because of its target market. Instead of targeting the broader market, it is focused on the sporting industry that is significantly large. For example, soccer has over 4 billion fans globally. Other sporting events like Formula 1, NFL, and tennis have millions of spectators.
Therefore, its platform helps teams deepen their interactions with their fans. It helps them launch what are known as fan tokens. With these tokens, fans can vote on some issues and be rewarded.
The idea behind these tokens was great. However, in the past few months, it has become clear that the market opportunity is a bit small. For example, more than 62 teams have partnered with Chiliz and launched their tokens.
However, the total market valuation of all fan tokens is about $362 million. While this is a big number, it is significantly smaller than other blockchain industries like NFTs and decentralized finance (DeFi). At the same time, the prices of most fan tokens has declined sharply from their all-time high.
Therefore, there are concerns about whether the Chiliz price will continue doing well if the fan token industry remains underwater.
Chiliz price prediction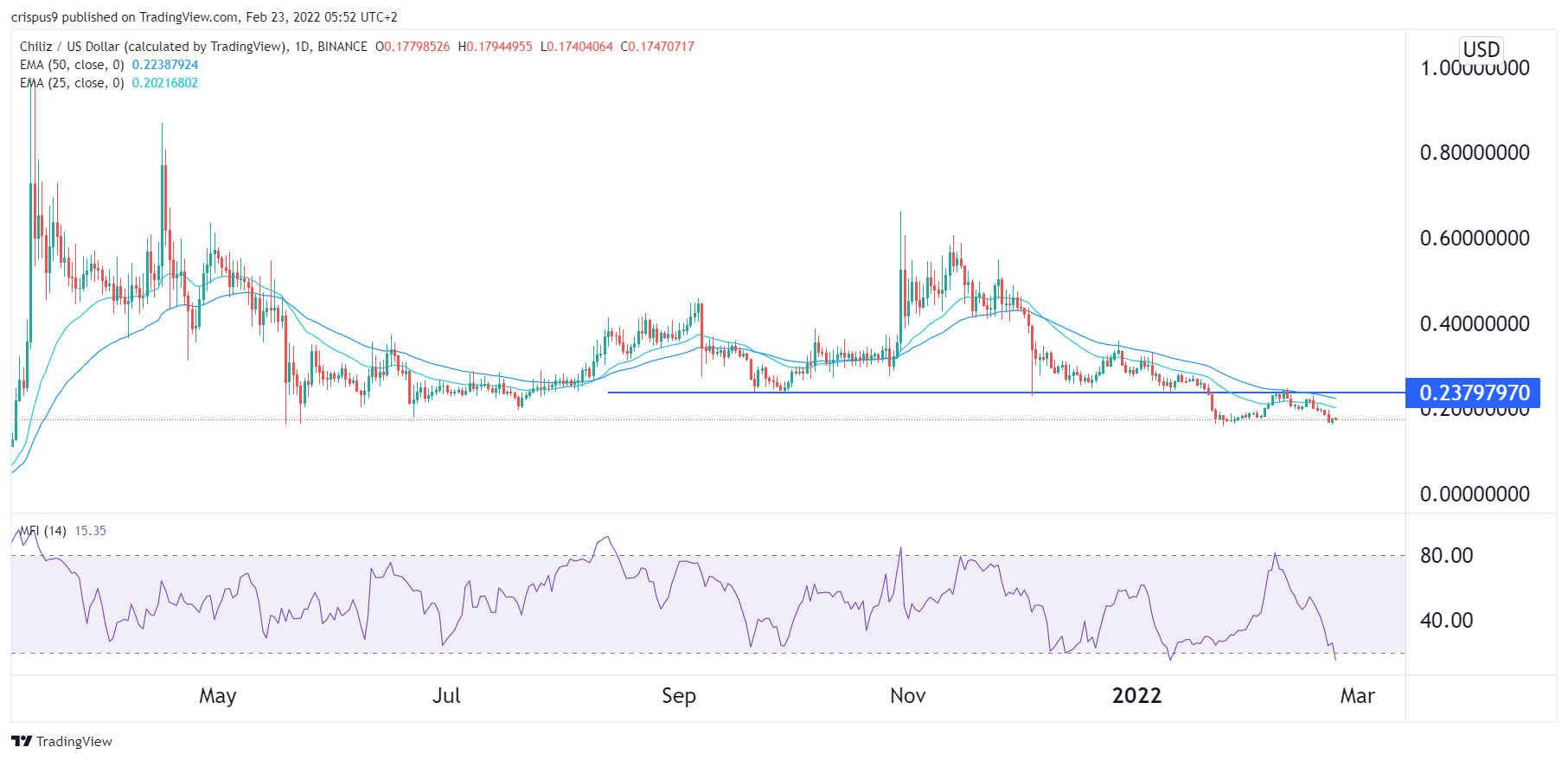 The daily chart shows that the Chiliz price has been in a strong bearish trend. The coin is trading at $0.175, which is 82% below its all-time high. Along the way, the coin has moved below the 25-day and 50-day moving averages.
It has even crossed the important support level at $0.23, which was the lowest level in September and December of this year. Oscillators like the Relative Strength Index (RSI) have also turned lower. Therefore, the path of the least resistance for the pair is to the downside.