Bitcoin price prediction as hyperinflation risks becomes real
The Bitcoin price is stuck in a range as investors assess multiple factors like regulations, Ukraine, and the rising inflation. It is trading at $38,600, which is lower than this week's high of $42,787. Its market capitalization has dropped to about $732 billion.
Hyperinflation risks
A key concern among Bitcoin investors is about the Federal Reserve as inflation rises and recession risks rise.
On Thursday, data from the United States showed that the headline consumer price index (CPI) rose from 7.5% to 7.9% in February this year. This is a notable figure since the country's inflation was below 2% two years ago. It was also the highest it has been in more than 40 years.
Excluding the volatile food and energy prices, inflation jumped to 6.4% in February as prices of most items surged.
Now, there are risks that the US could see hyperinflation in 2021. For one, energy prices have skyrocketed in the past few days because of Russia. The country has been sanctioned by most western countries and threatened to cut gas supplies to Europe.
Brent, the global benchmark of oil has risen to over $110, which is remarkable since it was below $15 in 2020. Some analysts expect that it will rise to $200. Natural gas has also risen to a record high.
At the same time, other commodities have skyrocketed. Nickel, which is used in electric car manufacturing has risen to a record high. Wheat, a key commodity consumed by millions of Americans every day has risen to a record because Russia is the biggest seller.
Meanwhile, the Federal Reserve has flooded the market with dollars. In just two years, its balance sheet has soared from $4 trillion to $9 trillion. In 2000, the bank had a balance sheet of less than $50 million.
Therefore, there are hyperinflation risks, which the Fed will try to solve by hiking interest rates, which will be bad for Bitcoin prices.
Bitcoin price prediction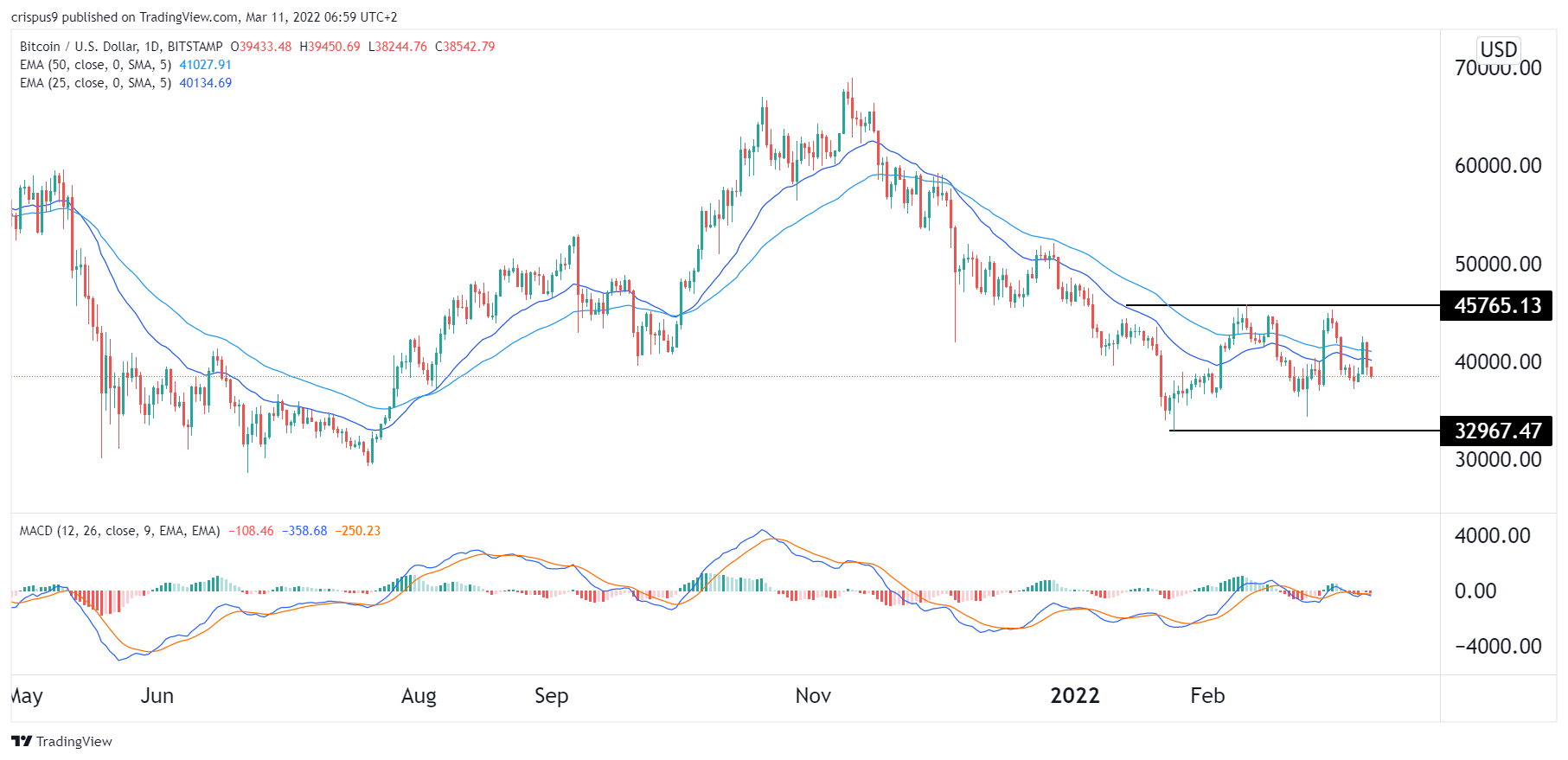 The daily chart shows that the Bitcoin price has been in a tight range in the past few weeks. It is trading at $38,600, where it has been in the past few weeks. The price is between the support and resistance levels at $32,967 and $45,975. It is trading slightly below the 25-day and 50-day exponential moving averages (EMA) while the MACD is below the neutral line.
Therefore, there is a likelihood that the BTC price will have a bearish breakout in the near term. If this happens, the next key support to watch is $30,000.