Bitcoin price is wavering ahead of Fed minutes. A good buy?
The Bitcoin price moved sideways as traders waited for the latest US retail sales data and the upcoming minutes by the Federal Reserve. It is trading at $44,247, which is a few points below this week's high of $44,788.
FOMC minutes and US retail sales
The BTC price has made a steady recovery in the past few days as the market sentiment has improved. The coin has jumped by about 35% from the lowest level in January, meaning that it has outperformed other assets like stocks and Bitcoin.
Bitcoin's rebound has coincided with the strong performance of the closely watched fear and greed index. The index is trading at the neutral level of 51, which is significantly higher than this month's low of less than 30. It means that investors are about to turn greedy.
The next key catalyst for the Bitcoin price will be the upcoming US retail sales numbers that will come out on Wednesday. In general, analysts expect the numbers to show that the headline and core retail sales did well in January even as inflation jumped to the highest level in more than 40 years.
Retail sales are an important part of the American economy because of the number of people that the sector employs. It is also an important measure of consumer spending, which is the biggest part of the American economy.
The BTC price will also react to the upcoming minutes by the Federal Reserve that will come in the evening. The minutes will show a clear picture of what the Fed officials said during the meeting that was held a few weeks ago.
In that meeting, the initial statement said that Fed officials signaled that they will deliver at least three rate hikes. Ideally, Bitcoin tends to underperform in a period of hike rates.
Bitcoin price prediction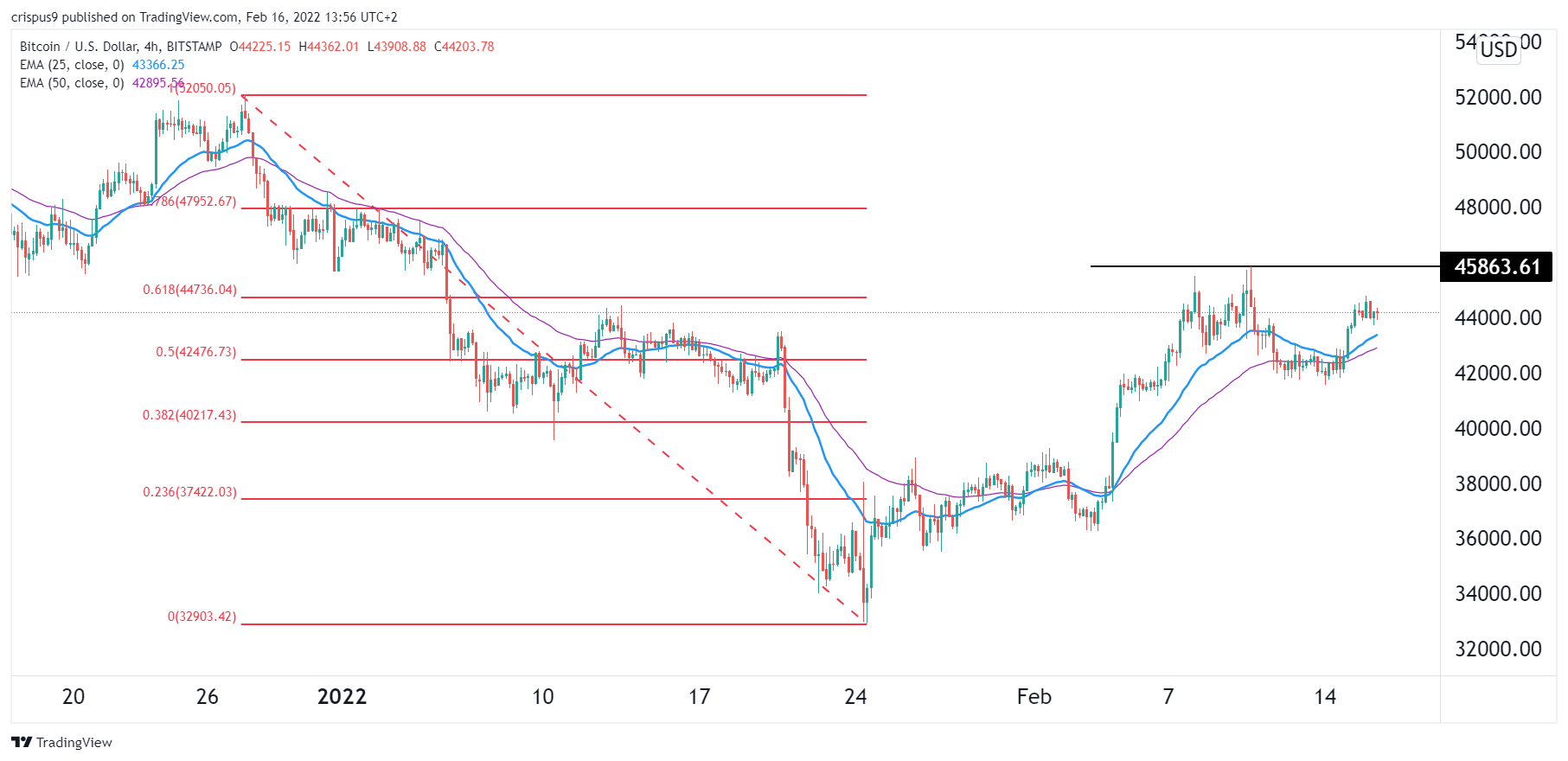 The four-hour chart shows that the BTC price has been in a strong bullish trend in the past few weeks. It has moved above the 25-day and 50-day moving averages and is slightly below the 61.8% Fibonacci retracement level.
It is also a few points below the key resistance at $45,860, which was the highest level this month. Therefore, there is a possibility that the pair will keep rising in the coming days as bulls attempt to move above the $45,000 level.