Bitcoin Cash price prediction: drop to $250 likely
The Bitcoin Cash price has been in a major sell-off in the past few months as worries about its future remain. The BCH coin is trading at $303, which is significantly lower than the all-time high of $1,637. As a result, its total market capitalization has dropped to $5.7 billion, making it the 26th biggest coin in the world.
Bitcoin cash journey to oblivion
BCH was once one of the most popular cryptocurrencies in the world. It was often seen as a good alternative to Bitcoin. And as a result, the two coins used to move in the same direction. Indeed, many retail traders loved BCH because it was usually cheaper than the main Bitcoin.
In the past few months, however, the Bitcoin Cash price has struggled as the correlation has ended. For example, as Bitcoin soared to an all-time high of almost $70,000 in November last year, Bitcoin Cash was trading at a significantly lower price than that.
There are several reasons why this situation has happened. First, investors have more options today considering that there are more than 12,000 cryptocurrencies in existence today. Some of the top altcoins like Avalanche and Polkadot have an equally close correlation to Bitcoin.
Second, there are worries that the Federal Reserve will embrace a more hawkish tone in the coming months. The first rate hike will happen in March this year and analysts expect that the bank will implement several more rate hikes this year. This explains why the BCH and other cryptocurrencies have been in a downward trend.
Third, the Bitcoin Cash price has crashed because of the drying liquidity in the marketplace. In the past two years, people in developed countries have had more money than they had before. For example, the American government implemented stimulus packages worth trillions of dollars. Some of these funds ultimately flowed to cryptocurrencies.
Bitcoin Cash price prediction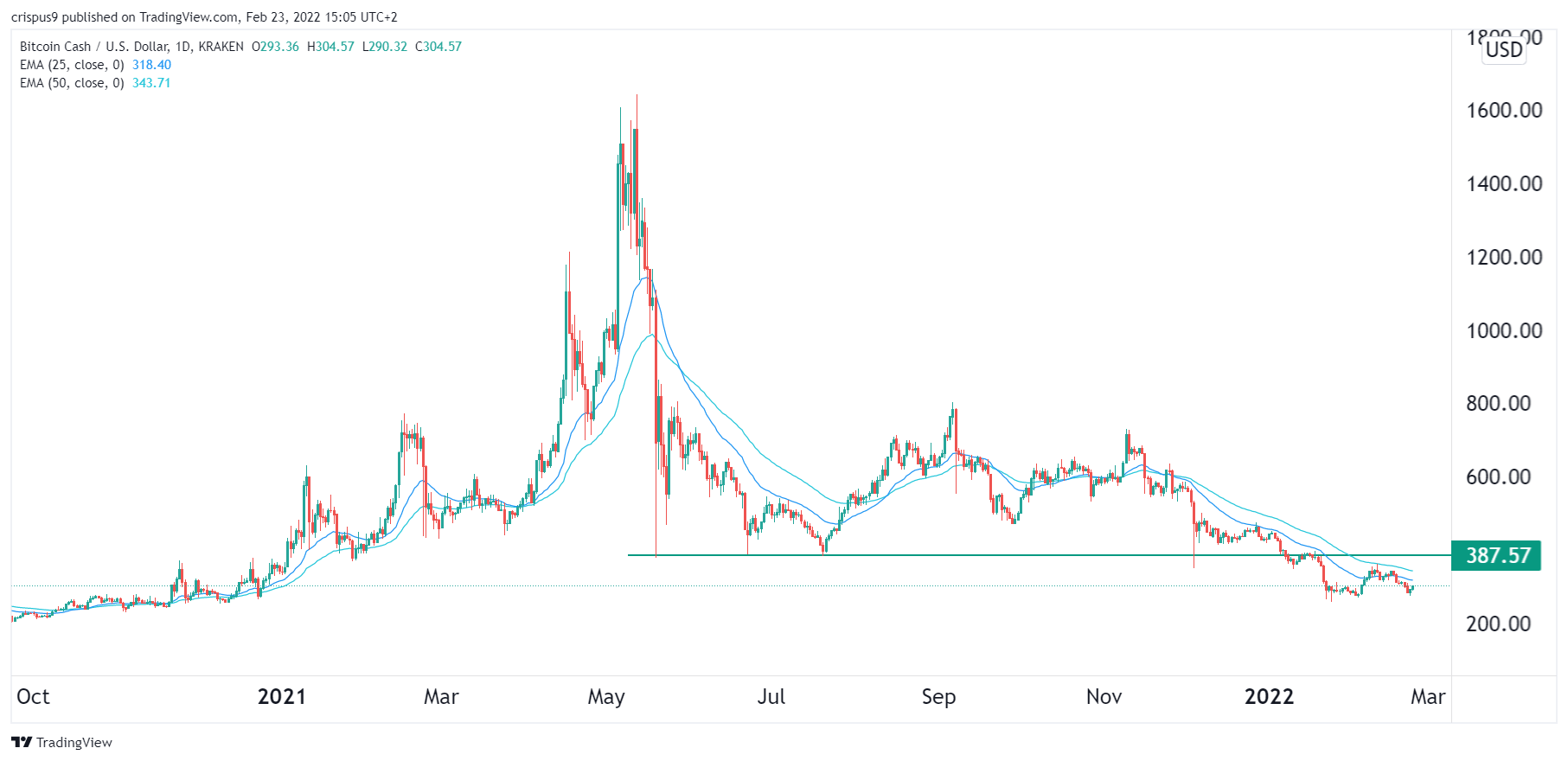 Turning on the daily chart, we see that the BCH price has been in a strong bearish trend in the past few months. As a result, the coin managed to move below the key support level at $387. It had struggled moving below this level several times last year.
Also, it moved below the 25-day and 50-day moving averages. Therefore, the coin will likely maintain the momentum as bears target the next key support level at $250.