Before the launch of the Hydra upgrade, should you buy ADA?
The Hydra team opened this protocol to the public testnet, which indicates that it will launch at some point in the near future.

This protocol was specifically created as a means of improving security and scalability within the network.

dApps are waiting for the Vasil hard fork, and all of this could contribute to the growth of the ADA token.
Cardano (ADA) is a Proof-of-Stake (PoS) blockchain network that is specifically founded on peer-reviewed research.
It is made to enable decentralized application (dApp) development with a multi-asset ledger and verifiable smart contracts.
The Hydra Upgrade launch as a catalyst for growth
The first Hydra Heads have been opened within the Cardano public testnet.
What this essentially means is that features of the Layer-2 scaling solutions can now be tested out, which is an indication that the launch of this protocol is getting near.
Additionally, the founder of Cardano, Charles Hoskinson, took to Twitter to truly applaud the team on the day of the announcement, March 16, 2022.
Hoskinson stated: "I'm extremely proud of the Hydra team for making this milestone. It's one of the fastest and best pieces of applied research in the Cardano Ecosystem.".
Note that the development of this protocol began in 2020 and has since been developed into a Proof-of-Concept.
Should you buy Cardano (ADA)?
On March 18, 2022, Cardano (ADA) had a value of $0.8276.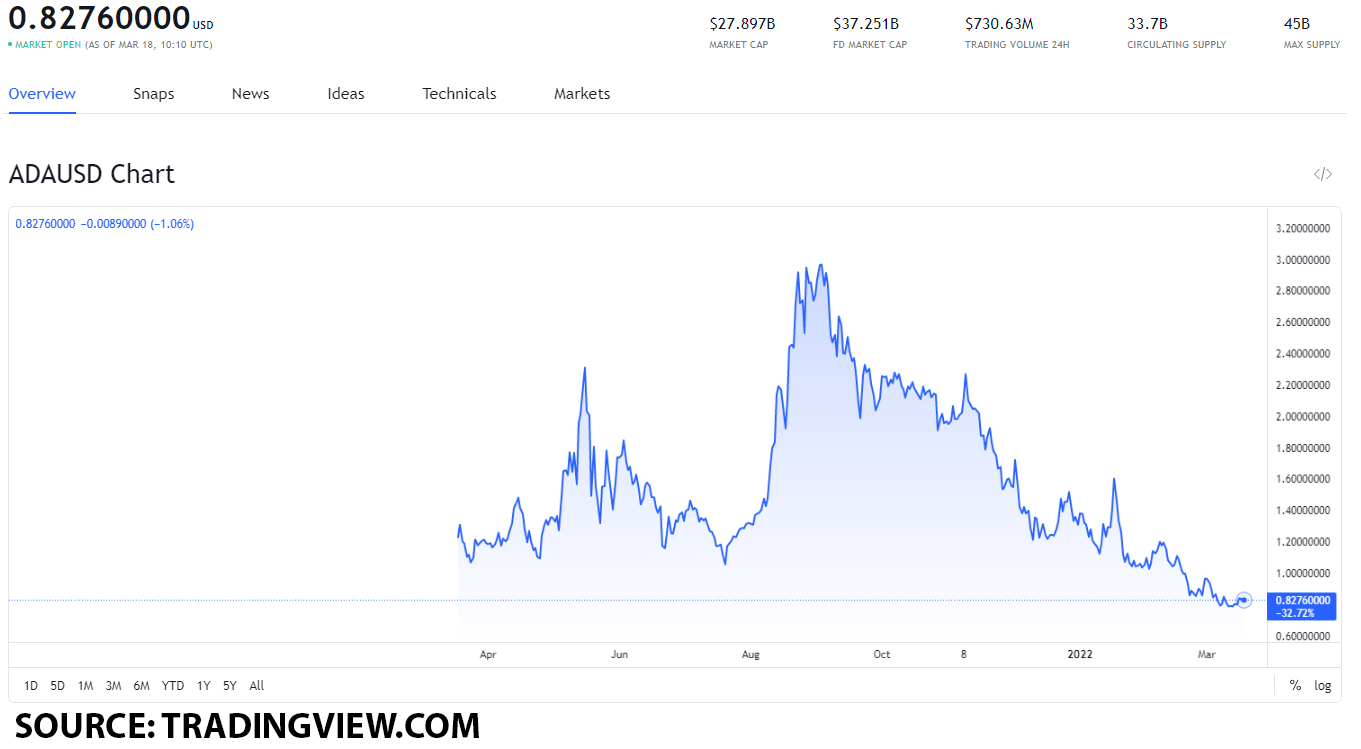 As a means of getting an indication as to what this value point truly means for the ADA cryptocurrency token, we will be going over its ATH point of value as well as the performance in February.
Discussing the all-time high value of the Cardano (ADA) token, it was achieved on September 2, 2021, when the token reached a value of $3.09. This means that the token was $2.2624 higher in value or by 273%.
Looking at February's performance in regards to the Cardano (ADA) token, it had its highest point of value on February 8 when it reached a value of $1.2494.
The lowest point was on February 24, when the token decreased to $0.7623. This marked a decrease in value of $0.4871 or by 39%.
However, from February 24 to March 18, the token increased in value by $0.0653 or by 9%.
With this in mind, we can expect Cardano (ADA) to reach a value of $1 by the end of March 2022, making it a solid token to buy.