Basic Attention Token price prediction as it stages a strong recovery
The Basic Attention Token (BAT) price has made a slow recovery in the past few days. The token is trading at $0.7340, which is about 30% above the lowest level this year. Its total market capitalization has risen to about $1 billion, making it the 86th coin in the world.
BAT rebounds
Brave is a browser that seeks to disrupt a multi-billion dollar industry that is currently dominated by the likes of Opera, Mozilla, Google, and Microsoft.
The company hopes to solve some of the biggest concerns that the platform has. For example, it comes with an in-built ad-blocker and other privacy features.
Its main differentiating factor is that it pays users who opt to receive its adverts. It pays them using the BAT token, which users receive every month. Today, Brave has over 50 million users.
In the past few months, the developers have launched multiple products as it tries to expand its ecosystem. It has launched its alternative to Zoom, which allows people to hold video calls. It has also launched its search engine, which aims to compete fully with Google.
There is a likelihood that users of the Brave search engine will start earning rewards using the BAT token. Microsoft Bing has a similar service in which it gives users points, which they can redeem in its stores.
Still, like all web 3.0 platforms, Brave faces the challenge of the volatility of the Basic Attention Token. Like all coins, it is a highly volatile currency whose price has dropped by over 60% from its all-time high. A possible solution would be a stablecoin, whose value is pegged on the US dollar.
It is unclear why the BAT price has risen in the past few days. A possible reason is that the company has announced that it will soon offer its Bored Ape Yacht Club NFT.
Basic Attention Token price prediction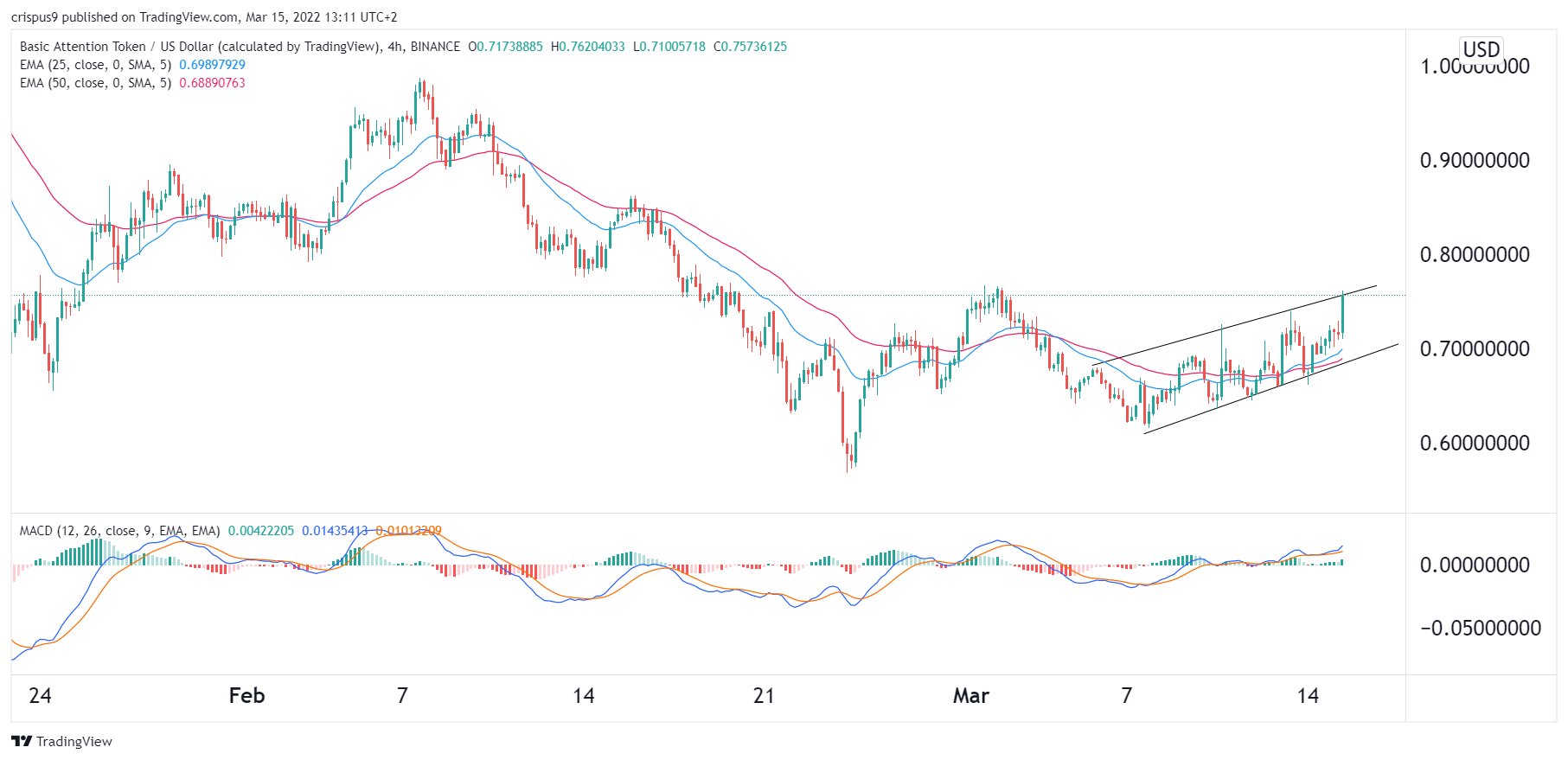 The four-hour chart shows that the BAT price has been in a bullish trend in the past few days. The coin has risen by about 30% from its lowest level this year. It has formed an ascending channel that is shown in black.
The coin has moved above the 25-day and 50-day moving averages while the MACD indicator has moved above the neutral line. Therefore, there is a likelihood that the Basic Attention Token will keep rising in the near term.