Astroport price prediction: Here's why ASTRO has gone parabolic
The Astroport price has done well in the past few days. The ASTRO token rose to an all-time high of 4.81 USDT, which was about 300% above the lowest level this year. Its market cap has jumped to over $466 million, making it the 180th biggest coin in the world.
What is Astroport?
Astroport is a relatively new blockchain project that was launched on December 28th last year. It is a decentralized exchange (DEX) built in Terra's ecosystem. It offers several features that are also provided by other DEXes like Uniswap and Aave.
In Astroport's ecosystem, one can easily swap tokens by just connecting their digital wallet. The benefit of using its platform vs peers is that its fees are substantially cheaper. Also, transactions are finalized at a faster pace.
In addition to swapping, Astroport has liquidity tools, meaning that anyone can provide their tokens and earn interest. At the time of writing, the amount of liquidity in the platform has risen to more than $1.75 billion. The 24-hour volume is about $384 million.
Why is Astroport price rising?
The Astroport price is rising after the developers unveiled new features to promote governance and staking. Last week, the developers implemented the first phase that saw the introduction of staking and fee sharing.
The feature has been received well, with the number of staked ASTROs being more than 80 million. These coins are yielding about 51.12% APY. The rewards come from the fees the platform charges for all transactions. Since its launch, the platform has raised about $12 million in fees.
The second phase will be about the full launch of governance via the Astral Assembly. The launch of xASTRO means that holders will take part in governing the ecosystem. They will also be responsible for proposing and voting on the required changes.
Astroport price prediction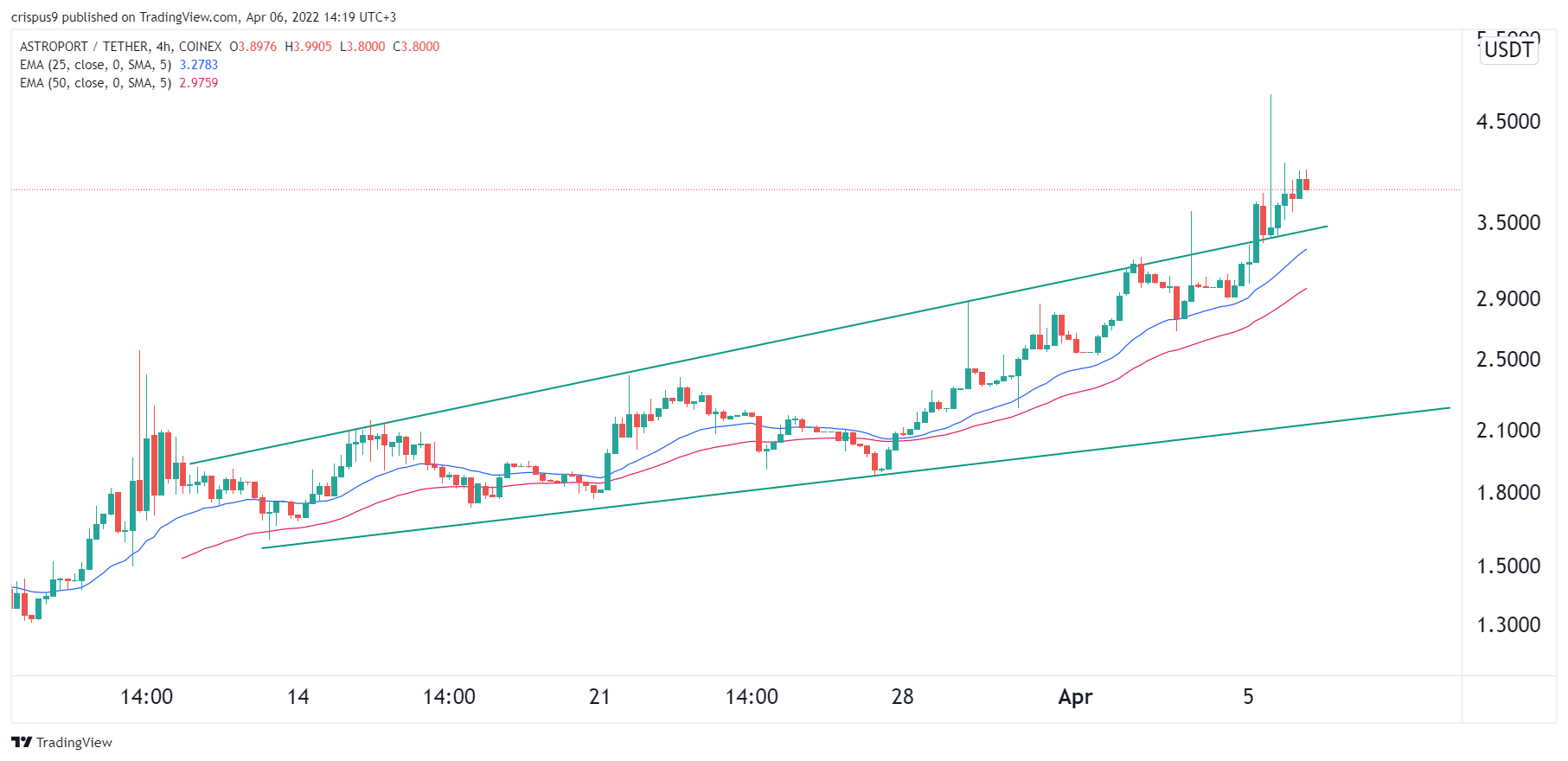 The four-hour chart shows that the Astroport price has been in a strong bullish trend in the past few months. As a result, the coin has moved above the 25-day and 50-day moving averages. The coin also formed an ascending channel that is shown in green. It has managed to move above the upper side of this channel.
Therefore, there is a likelihood that the ASTRO price will continue rising as bulls embrace the fear of missing out (FOMC). If this happens, the next key resistance will be at 5 USDT.