Arweave price has jumped lately. Is it a good buy?
The Arweave price has done well in the past few days. Its AR token has jumped to $36.8, which was the highest level since February 10th this year. It has jumped by about by about 64% from its lowest level this year, bringing its total market cap to about $1.8 billion.
What is Arweave?
Storage is a leading industry that is currently dominated by large companies like Microsoft and Alphabet. The industry makes billions of dollars every year and the trend will likely continue as the amount of data used by individuals and companies increase.
The same case applies for web and app hosting services. The industry is also dominated by companies like GoDaddy and Dreamhost. These centralized entities have a significant amount of power, meaning that they can discontinue their services to a company any time.
This is where Arweave comes in. It is a blockchain project that uses a technology known as permaweb, which ensures that data stored in its network is permanent. And unlike platforms like GoDaddy, it is not possible for one individual to remove this information.
The process works in a relatively simple way. When a user submits a transaction to the network, data storers are given the choice of whether to replicate the associated data. This data then moves to the maintainers, who scan it for known illicit materials and virus. Instead of being stored in central servers, this data is stored globally.
The Arweave price has done well in the past few days after the developers teamed with Polygon to launch a hackathon. Also, it rose after Ardrive raised $17.2 million to build projects on the Arweave protocol. Akord also raised $2.3 million from investors.
Arweave price prediction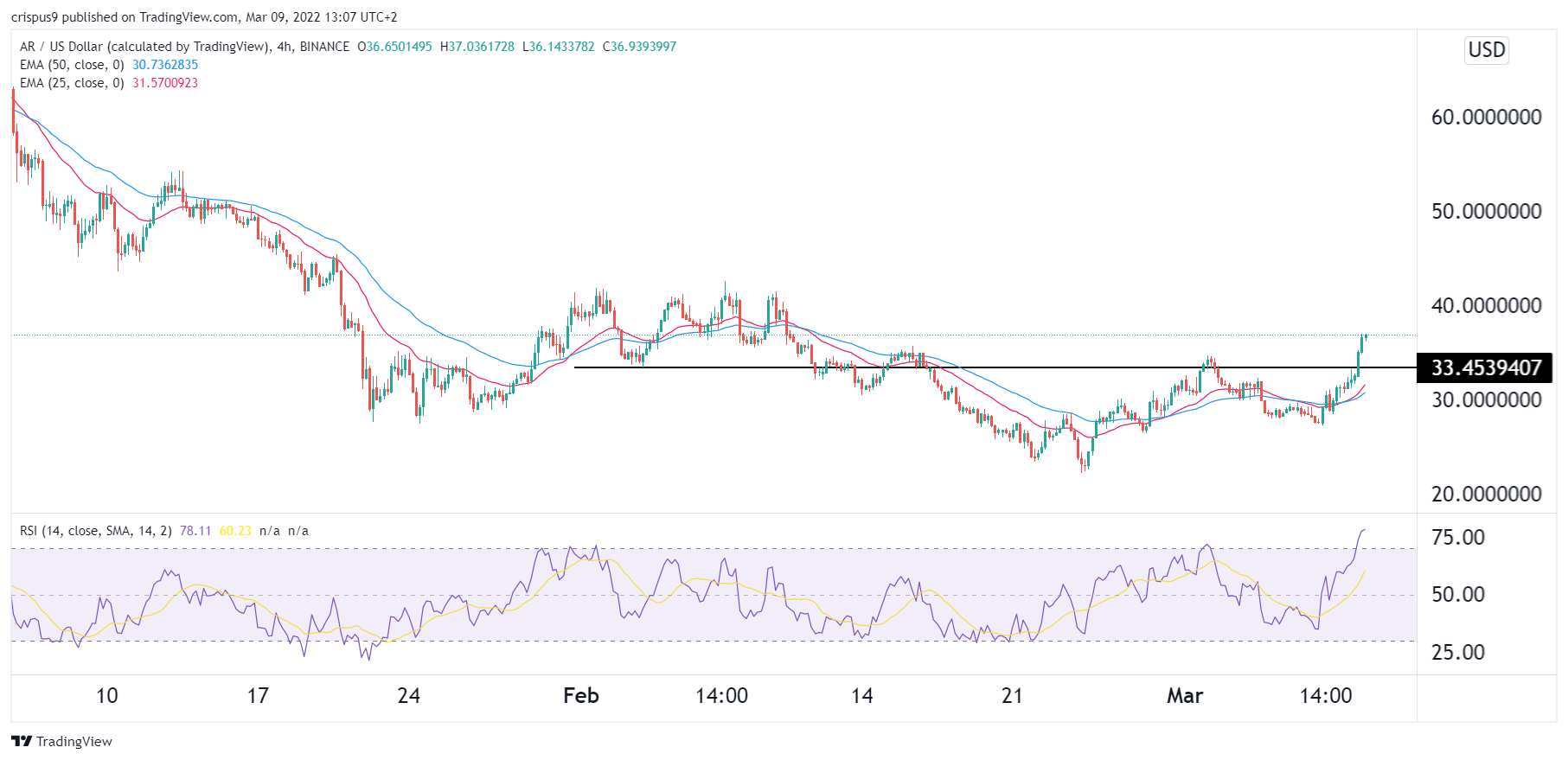 The four-hour chart shows that the AR price has been in a strong bullish trend lately. Along the way, it managed to move above the key resistance level at $33.45, which was the lowest point on February 1.
The coin has also risen above the 25-day and 50-day moving averages and oscillators like the Relative Strength Index has risen to the overbought level.
Therefore, there is a likelihood that the Arweave price will keep rising in the near term as bulls target the next key resistance level at $40.