ApeCoin price is in a consolidation phase. Time to invest?
The ApeCoin price has been moving sideways in the past two days after it popped sharply on Thursday and Friday last week. It is trading at $12.90, which is a few points above this week's low of $9.61. As a result, its market value is currently at $2 billion, making it the 62nd biggest coin in the world.
Bored Ape Yacht Club token
ApeCoin is one of the newest cryptocurrencies in the world. It was launched last week to become the native token of the Bored Ape Yacht Club (BAYC), which is one of the biggest players in the non-fungible token (NFT) industry.
For starters, BAYC is a leading NFT platform that is made up of 10,000 unique NFTs mostly of celebrities. In the past few months, its NFTs have been acquired by some of the top celebrities in the world like Snoop Dogg, Mark Cuban, and Paris Hilton among others.
ApeCoin is the native token for the ecosystem. According to its developers, the goal of launching the coin is to expand the network and make it a more effective decentralized autonomous organization (DAO). Some of the initial coins were distributed to the original holders of the Bored Ape Yacht Club.
Another notable development is that Yuga Labs, the platform's developers raised $450 million from investors. The new fundraising valued the platform at over $4 billion, making it one of the biggest players in the platform.
The goal will be to build a metaverse platform where people can play games and interact in the metaverse. This fundraising also came a week after it acquired CryptoPunks and Meebits, which brought the biggest NFT platforms in one roof. Therefore, analysts expect that the ApeCoin price will likely keep rising in the near term.
ApeCoin price prediction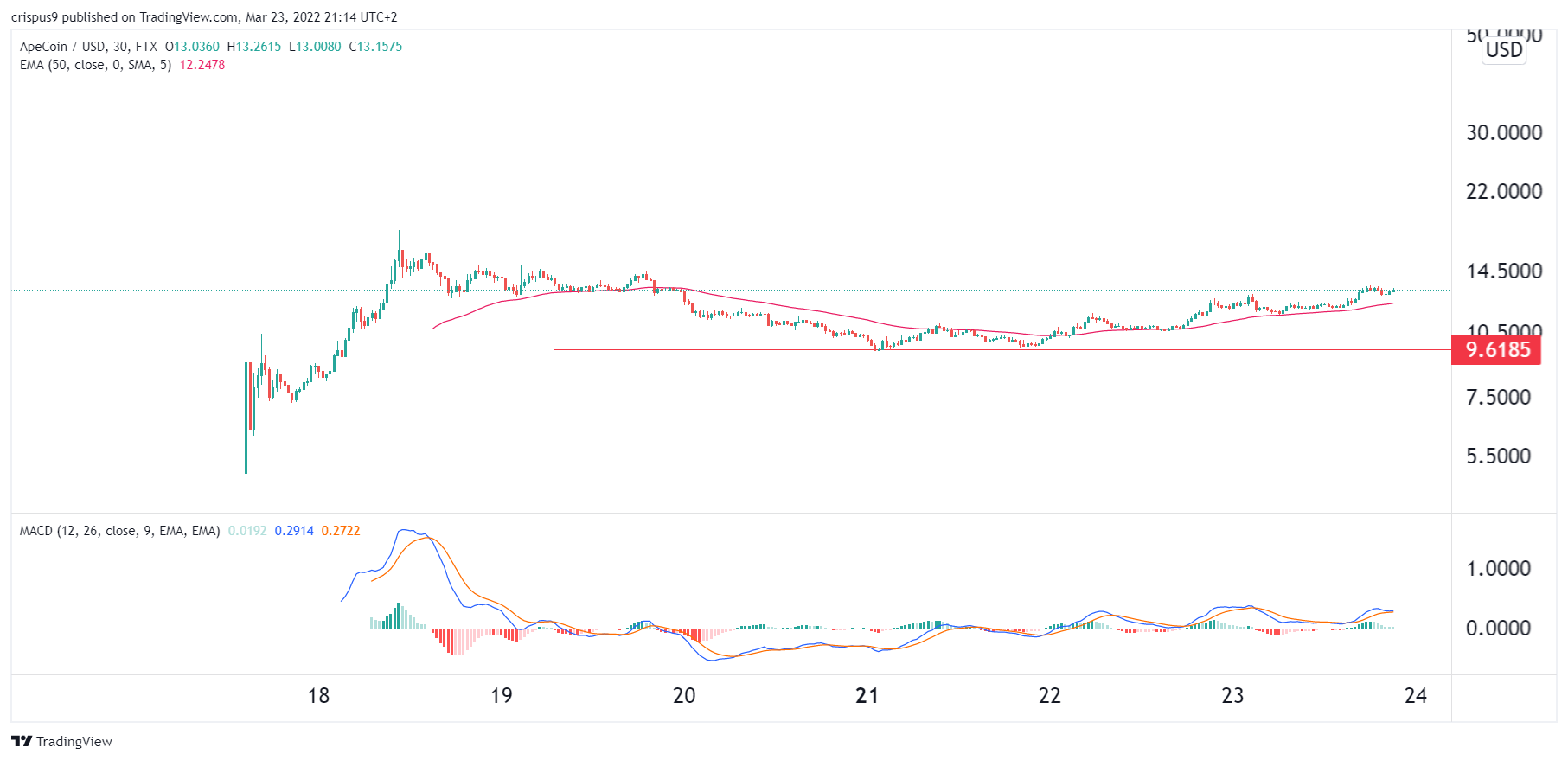 The 30-minute chart shows that the ApeCoin price jumped sharply after it went public last week. At the time, many people bought the coin in a bid to avoid the fear of missing out (FOMO). The jump was short-lived as the coin moved to a distribution phase.
The coin is now slightly above the 25-period moving average while the MACD has moved slightly above the neutral level. Therefore, there is a likelihood that the coin will resume the bullish trend as investors buy the dips amid the new developments.