AAVE price prediction: Ripe for a 76% pop to $395
The Aave price has performed well in the past few days as investors watch the ongoing inflows in its ecosystem. The token is trading at $221, which is the highest it has been since January 19th this year. This price is about 96% above the year-to-date low.
Aave inflows rise
Aave is a leading non-custodial decentralized finance (DeFi) platform that facilitates lending and other services.
The network was initially built using Ethereum's technology although it has expanded to other platforms in the past few months. The developers' goal is to give users a variety of ways to interact with its ecosystem.
Aave has a number of uses. First, users can provide liquidity to the network and then earn interest from it. Without this liquidity, it is not possible for its DeFi ecosystem to work well.
Second, it allows people to borrow money by providing a collateral to the network. This means that you can borrow a certain amount of money provided that you provide your coins as collateral.
Finally, it has staking features that let people deposit their AAVE token and earn rewards by securing the network.
Aave has become incredibly popular these days. In its website, it claims to have over $21 billion of liquidity in its network. DeFi Llama places its total value locked (TVL) at about $14 billion, making it the 5th biggest DeFi platform in the world. The only ones bigger are Curve, Lido, MakerDAO, and Anchor Protocol.
The AAVE price has risen in the past few days because of the continued growth of its ecosystem considering that its TVL has risen by over 8% in the past 7 days. Another reason is that investors believe that AAVE has established itself as a leading player in the DeFi world and that its token was undervalued.
AAVE price prediction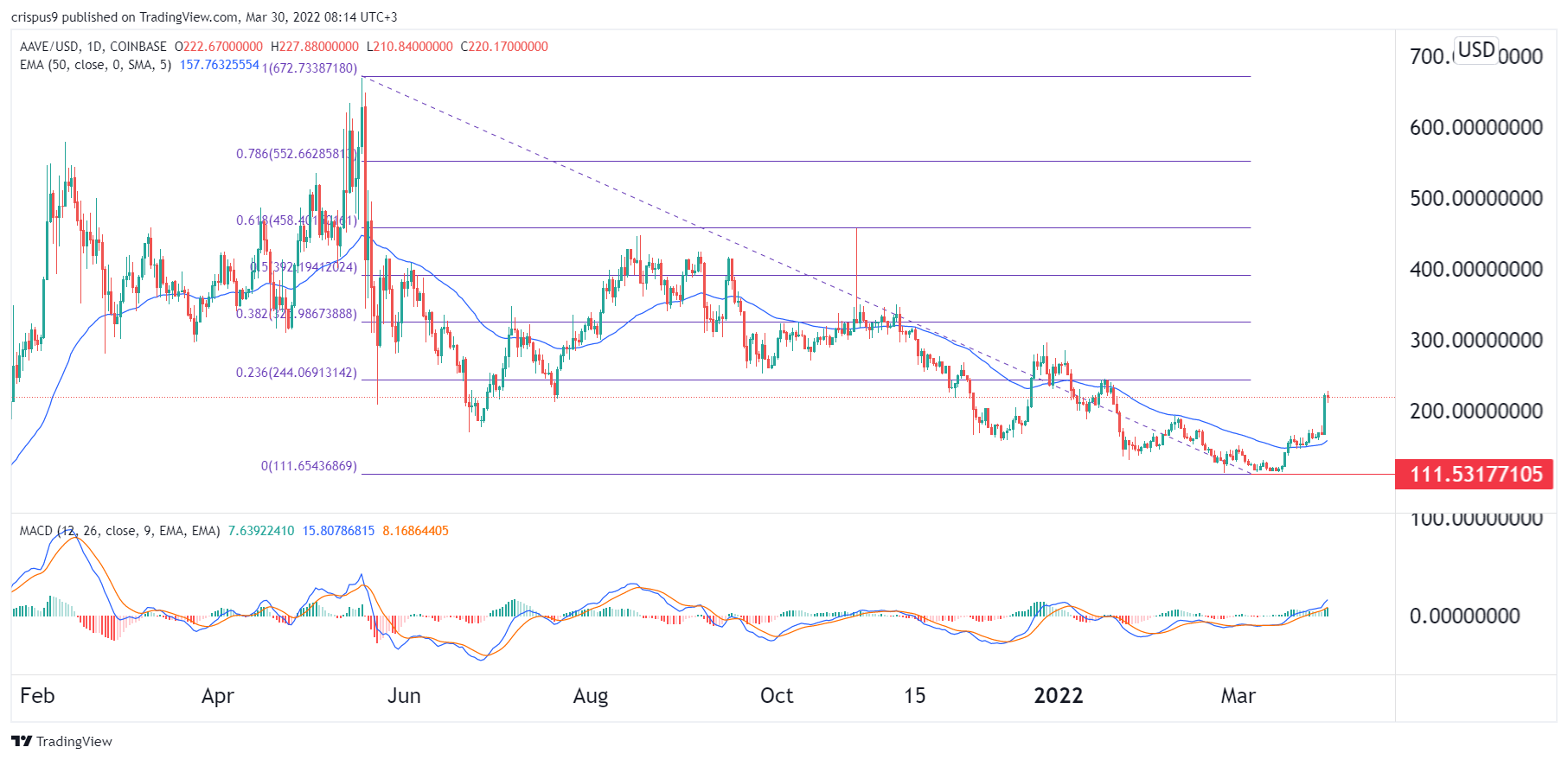 The daily chart shows that the AAVE price has bounced back in the past few days. This performance helped to push its price above the 25-day moving average while the Relative Strength Index (RSI) and MACD indicators have pointed upwards. It is also approaching the 23.6% Fibonacci retracement level.
Therefore, there is a likelihood that the coin's price will continue rising as bulls target the 50% retracement level at $395, which is about 76% above the current level. A drop below $150 will invalidate this view.