3 reasons why the Ripple price has crashed by 25% from its Feb high
The Ripple price declined sharply on Tuesday morning, accelerating the sell-off that started early this month. XRP is trading at $0.6830, which is the lowest it has been since February 7th this year. It has fallen by more than 25% from its highest level this month.
Multiple factors for the sell-off
There are several reasons why the XRP price has retreated in the past few weeks. First, there are concerns about the ongoing Russian invasion of Ukraine. On Monday, Putin recognized two separatist groups in Eastern Ukraine and immediately asked the military to move there for peace-keeping operations. The move was criticized by the UN Security Council.
In most cases, this crisis does not have a direct correlation with Ripple and most cryptocurrencies. Therefore, its price action is mostly because of the overall risk-off sentiment in the market as investors move to safe-haven assets like gold. Indeed, gold prices have risen to the highest levels in more than 6 months as the fear and greed index has dropped to the lowest point in more than a week.
The Ripple price is also falling as investors react to the rising possibility that the Federal Reserve will be a bit hawkish going forward. Data published recently showed that the American economy is doing well, with the unemployment rate falling and inflation rising to the highest point in over 4 decades. Historically, risky assets like Ripple and Bitcoin tends to be affected negatively by a hawkish Fed.
Further, investors are watching the ongoing SEC vs Ripple case that is going on in the US. The SEC has accused Ripple and its founders of raising capital without following due process. Ripple has rejected the claims and hired a former senior SEC official as its lead attorney.
It is unclear how the judge will rule in this case. But regardless of the ruling, analysts believe that the Ripple price will keep doing well. In the past, such cases have ended with a fine imposed to the defendants.
Ripple price forecast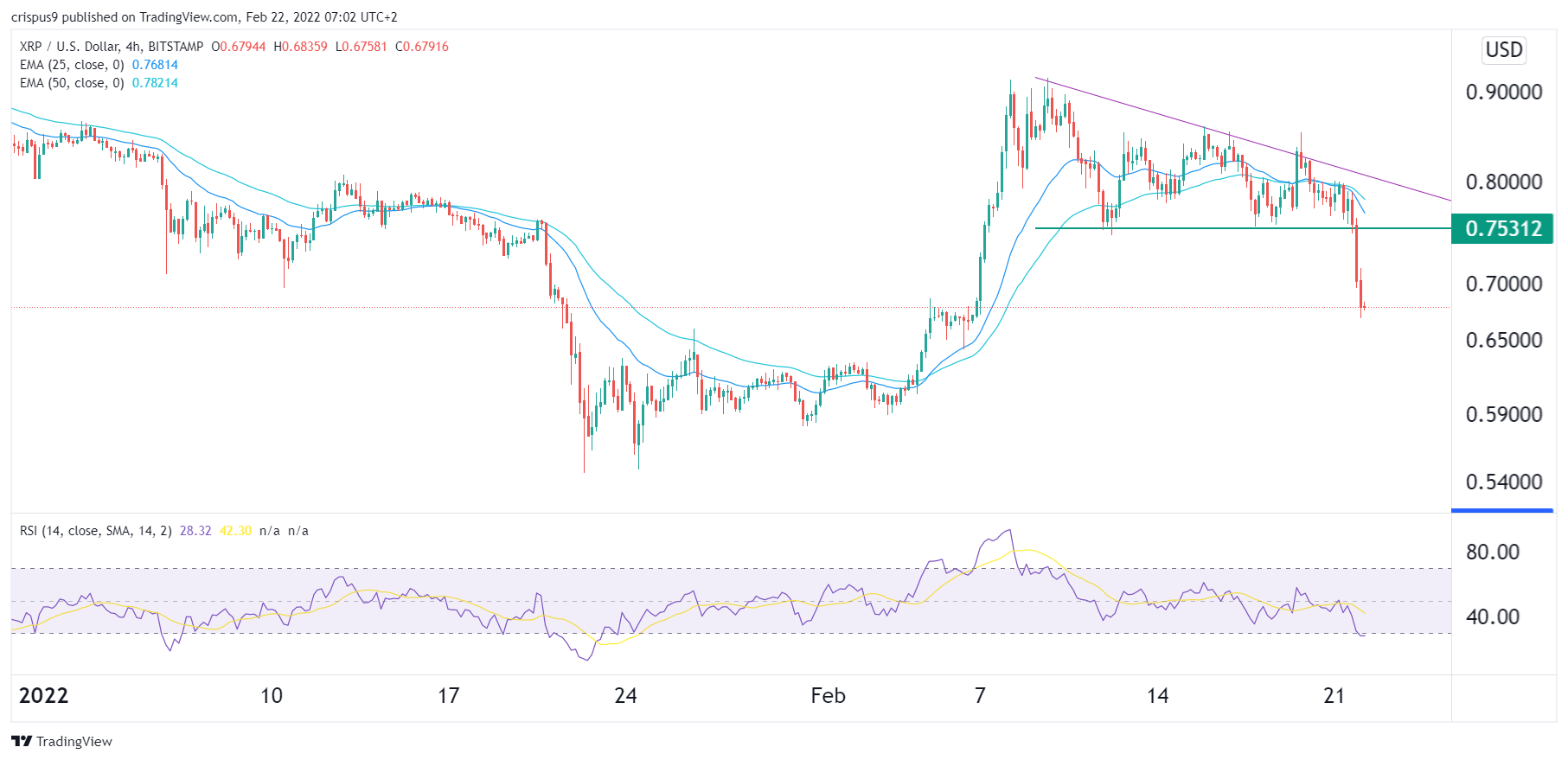 The four-hour chart shows that the XRP price has been in a deep sell-off in the past few weeks. The sell-off accelerated when it moved below the support level at $0.7530, which was the lower side of the descending triangle pattern.
Ripple has also moved below the 25-day and 50-day moving averages while the Relative Strength Index (RSI) has declined to the oversold level. Therefore, there is a likelihood that the coin will keep falling as bears target the next key support at $0.65.